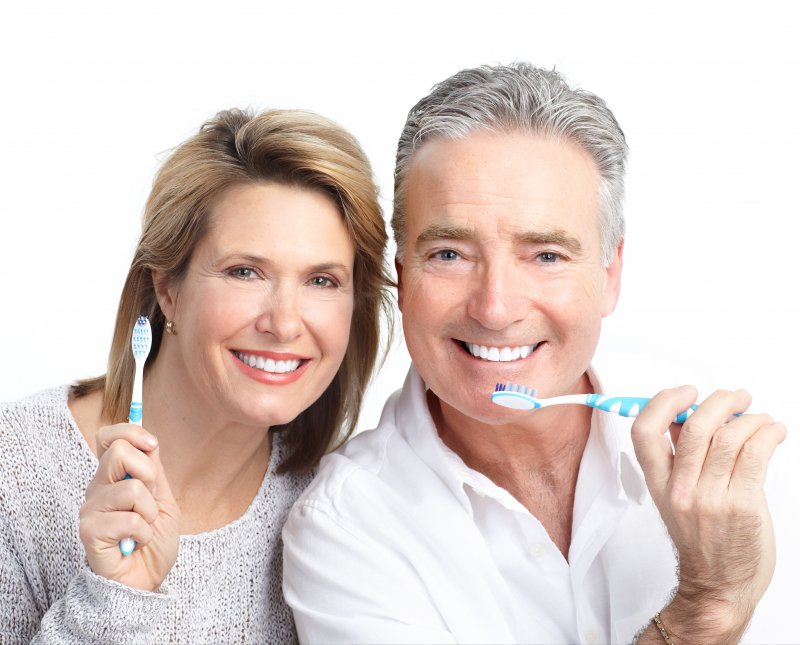 Dental implants have been around for decades, but many people are only learning about them for the first time. While dentures and dental bridges have been the standard for quite some time now, they cannot compare to the aesthetic and functional qualities of dental implants.
Of course, the first thing someone would say to that is "If it sounds too good to be true it probably is." That's why today, an implant dentist in Williamstown wanted to set the record straight on what to expect after you receive your new replacement teeth!
Do Dental Implants Require Special Care?
Dental implants require the exact same level of care as natural teeth. This includes brushing twice a day with a fluoridated toothpaste and flossing daily. While the porcelain material that makes up the crown portion of the implant cannot develop decay, the gum tissue surrounding the implant can become inflamed and infected if plaque is not regularly removed. Keep in mind that healthy gum tissue is incredibly important to making your implant last, so daily oral care cannot be overstated enough.
Do I Need to Visit the Dentist More Often?
Those with dental implants do not have to visit the dentist anymore often than they already do. By scheduling routine cleanings and exams once every six months, the dentist can confirm the status of your oral health, determine if your at-home care is sufficient, and make sure no issues are present with your current restorations.
Can Dental Implants Fail?
While it is extremely rare, dental implant failure is possible. Thankfully, it is very largely preventable when you practice daily oral care and have your treatment performed by a professional. Implant dentists always take the necessary precautions when planning your implantation and will provide all information you need to keep them healthy. For example, you should never use tobacco products as they can easily cause gum disease. Gum disease is the leading cause of tooth loss in adults, so tobacco should be avoided at all costs.
Can I Eat Anything?
Since implants are meant to mimic teeth as closely as possible, there's no reason why you can't eat the foods you previously enjoyed. However, you should always proceed with caution if you decide to eat hard, tough or chewy foods that can easily get stuck inside teeth, just as you would if you didn't have implants. Furthermore, you should never use your teeth as a tool just because you have a restoration in place. Doing so will prematurely wear down the crown portion of your implant as well as put unnecessary pressure on the implant itself.
When it comes to dental implants in Williamstown, what you see is truly what you get. If you're ready to get started rebuilding your smile, don't hesitate to contact an implant dentist today!
About the Author
Dr. Wael M. Kassem earned his dental degree from Temple University. He's capable of performing every step of implant treatment all in one location, making your path to a new smile all the more convenient. To learn more about his expertise or practice, you can contact him through his website.