Dental Checkups & Teeth Cleanings – Williamstown, NJ
Your Overall Wellbeing
is Our Top Priority
Some people put their semi-annual dental checkups and cleanings on the backburner because they're not aware of how important these visits actually are. Professional preventive care can help preserve your smile by tackling small issue such as cavities before they have a chance to progress into something more serious, like an infection. With just two hour-long appointments a year, you'll be able to reduce your risk of needing invasive and costly procedures down the road. That's a pretty good return on your investment of time! If it has been longer than six months since you or any of your loved ones last visited your dentist, contact us today to schedule an appointment for dental checkups and teeth cleanings in Williamstown, NJ. Dr. Kassem is happy to treat patients of all ages.
Why Choose iSmile Dental Arts
for Dental Checkups & Teeth Cleanings?
Modern, Relaxing, Family-Friendly Dental Office
Evening and Weekend Hours Available
Accepts Most Dental Insurance Plans
Why are Routine Dental Checkups & Teeth Cleanings So Important?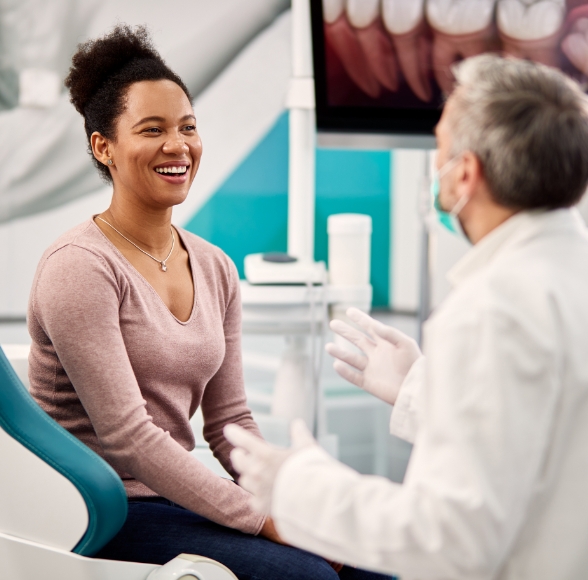 Many people wonder why it's necessary for them to visit their dentist for cleanings and checkups every six months when they're diligent about brushing and flossing at home. Unfortunately, good at-home dental care isn't always the solution to warding off oral health problems. There are a variety of factors that go into maintaining the health of your teeth and gums, and unfortunately, there are plaque and tartar deposits in hard-to-reach nooks and crannies of your mouth that can only be cleaned out by a professional. Thorough cleanings from our trained and experienced dental hygienists will drastically reduce your risk of developing common oral issues, including gum disease.
Even if you aren't in pain, there are a variety of oral health problems that may not exhibit symptoms or signs until they become serious. When Dr. Kassem regularly examines your gums, oral tissues, and teeth, you'll be able to rest assured that any issues that arise will be quickly taken care of before they require costly procedures.
What Happens During a Dental Checkup?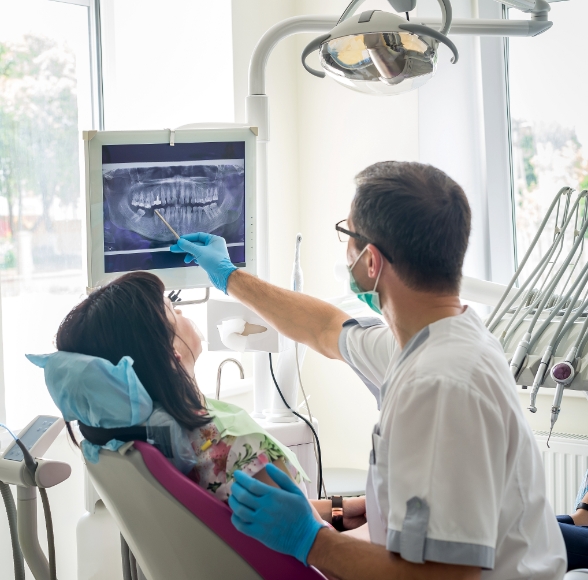 The first portion of your semi-annual visit with Dr. Kassem will consist of a thorough dental checkup. Our goal is to leave no area of your mouth unchecked to make sure that we don't miss any issues that may need attention. If it's time for you to receive an X-ray, we'll take images of your mouth to see if there's anything concerning hidden beneath the surface.
Dr. Kassem will conduct a visual inspection of your mouth and search for any symptoms of gum disease, cavities, or other oral health problems. After that, we'll perform an oral cancer screening and be on the lookout for any abnormalities, including white and red patches or lumps in the mouth. Once our examination is complete, we'll discuss our findings with you and form a treatment plan if necessary.
What Happens During a Dental Cleaning?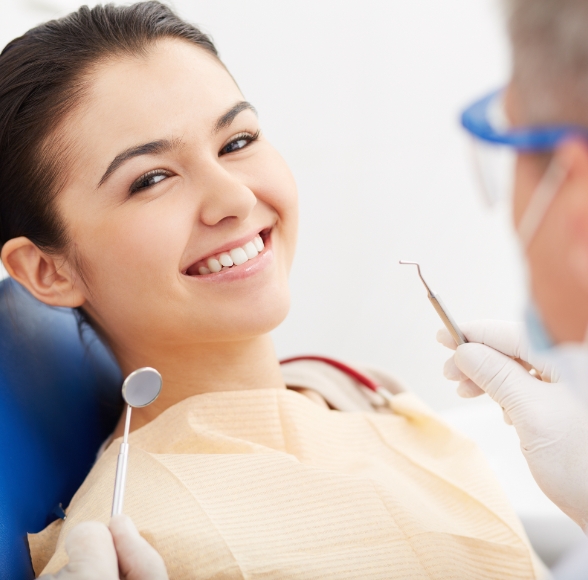 The last step of your visit will be a professional dental cleaning performed by one of our experienced and knowledgeable dental hygienists. Using special gadgets like a dental mirror and scaler, we'll clear every nook and cranny of your mouth of any plaque and tartar. We'll polish your teeth using a gritty substance called prophylaxis paste. This will break apart any surface stains on your teeth that make them appear yellow. Finally, we'll floss between each of your teeth to remove any lingering food debris, plaque, and bacteria.