All-on-4 – Williamstown, NJ
A Sturdier, More Lifelike Smile
If you already wear traditional dentures, you may have noticed that they tend to have a few shortcomings, such as slipping at unexpected times. In many cases, Dr. Kassem can offer an alternative: replacement teeth permanently attached to four dental implant posts courtesy of the All-on-4 procedure! If you're interested in learning more about this treatment and the advantages it provides, contact our office to set up a consultation.
Why Choose iSmile Dental Arts for All-on-4?
Dental Implants Placed In-House
Advanced Treatment Planning Technology
Convenient Financing Options
How Do All-On-4 Implants Work?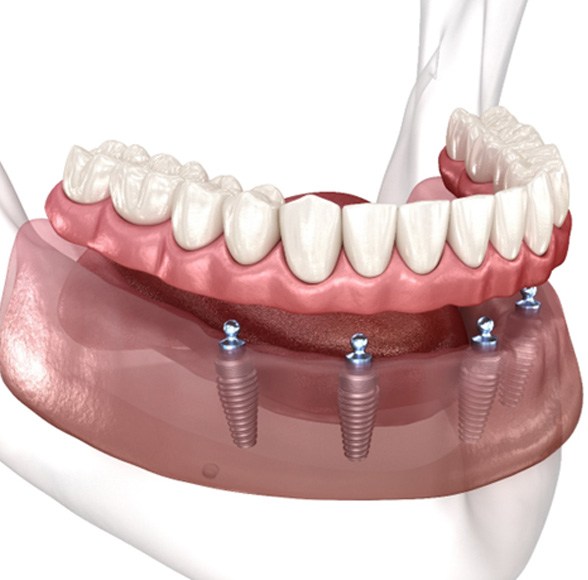 Each implant used for the All-on-4 procedure is surgically inserted into the jawbone at a specifically chosen location. The posterior implants (that is, the ones located near the back of the mouth) will both be angled in a way that lets them join with the parts of the jaw where bone density is higher.
The four implant posts will act as artificial roots for a denture made out of lifelike materials, thus allowing you to re-complete your smile in a way that both looks and feels natural.
Am I a Candidate for All-On-4 Implants?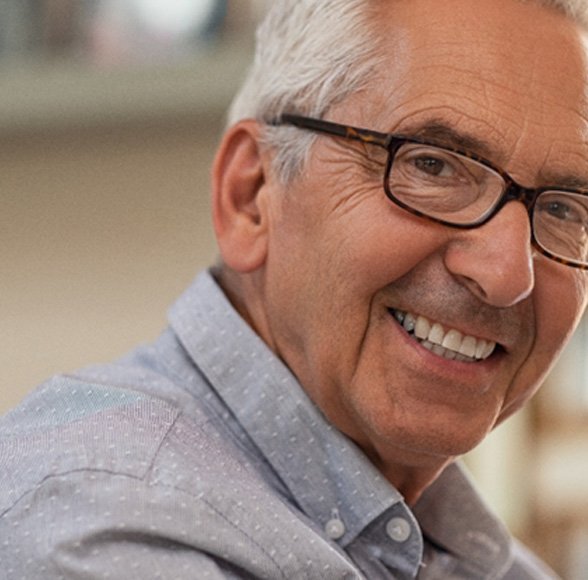 Have you lost most or all of the teeth in the upper jaw or the lower jaw? If so, All-on-4 can often be worth considering. Remember that in order to have dental implant surgery done, your mouth needs to be in good health. Our team will make sure you don't have gum disease or another dental issue that could cause complications.
Many people find themselves unable to get traditional dental implants because there isn't enough bone in their jaws. In this situation, All-on-4 might still be viable; the placement of the implant posts makes it possible to perform the procedure with less jawbone density.
Benefits of All-On-4 Implants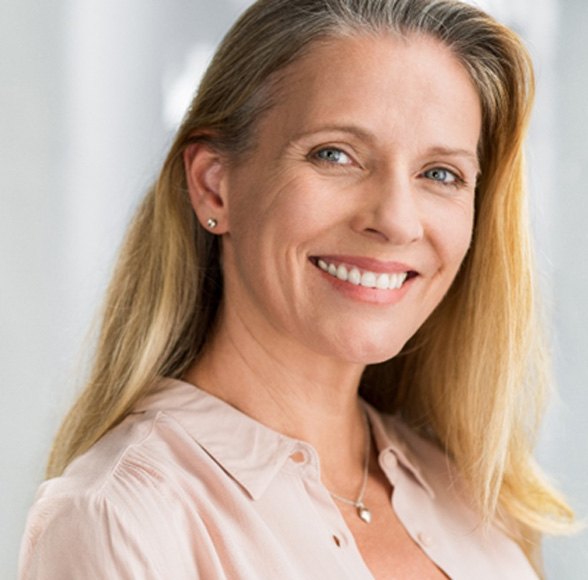 When comparing All-on-4 to other tooth replacement options, you'll quickly notice that the treatment has a number of advantages:
Your dentures will not shift or slip.
You can brush and floss like you normally would instead of removing your dentures to clean them.
The implant posts will help stop bone loss in your jaw.
There won't be any restrictions on the kinds of foods that you can enjoy.
All-On-4 VS Traditional Implants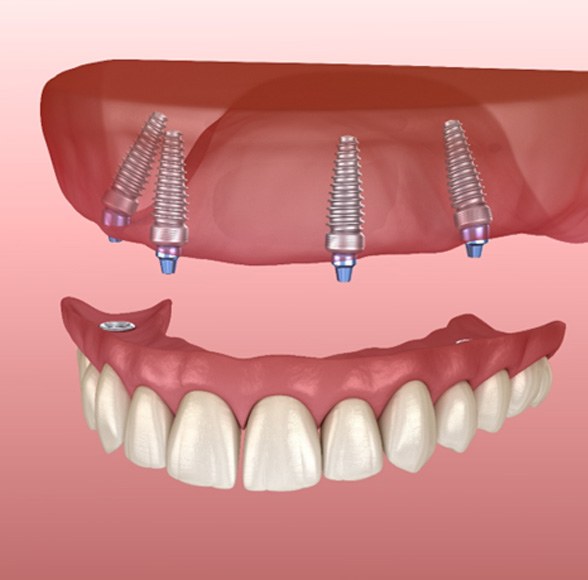 All-on-4 may seem somewhat similar to traditional dental implant placement. However, there are several important distinctions that you should be aware of:
With traditional dental implants, the number of posts needed for full dentures can vary. Sometimes as many as eight posts might need to be placed. All-on-4 only uses four posts, which means there's less surgery involved.
Some patients might only be candidates for traditional dental implants if they have bone grafting performed first. Since your mouth needs to fully heal from a bone graft before the next steps of the implant process can be taken, this can significantly extend your treatment timeline. But with All-on-4, bone grafting may not be necessary in the first place.
Sometimes the All-on-4 procedure allows us to attach a personalized denture to your newly placed implants right away. This means you won't have to worry about going without teeth for an extended period of time.
All-on-4 FAQs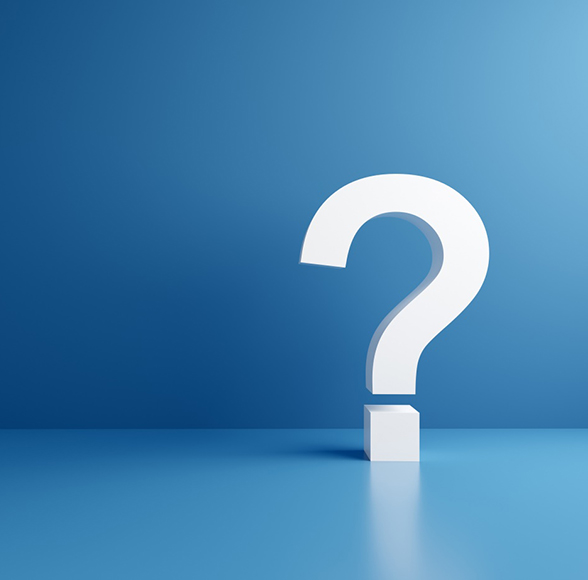 Dr. Kassem and our team are eager to help you rebuild a complete, strong, and confident smile with All-on-4 dental implant treatment. However, the procedure does represent a significant investment of time and money. Before you commit to anything, you may want to learn as much as possible about the road ahead. To assist you, we have compiled the answers to some common FAQs about this this treatment. If your questions are not addressed here, reach out to us directly. We look forward to speaking with you!
Can All-on-4 Dental Implants Fail?
All dental implant procedures, including All-on-4, boast an impressive success rate. In fact, some studies have found that this treatment is successful 98% of the time! Of course, that does leave a small risk of failure.
You can reduce your risk of complications by maintaining excellent oral hygiene, regularly visiting your dentist, and making wise lifestyle choices. For example, you should consume a balanced diet and avoid the use of tobacco products.
Does Dental Insurance Cover All-on-4?
Every dental insurance policy is unique, so you will have to examine your benefits to see how they apply. Some policies cover oral surgery, including the placement of dental implants, at around 50%. Others do not cover dental implants at all.
If your plan doesn't cover your implants, it might cover the permanent denture that you will receive after your implants bond with your jawbone.
Can I Remove My All-on-4 Denture?
An All-on-4 denture is permanently attached to the implants that support it. Many patients highly value this feature because it allows them to treat their denture almost as if it were their natural teeth. Your denture will only be removed when you visit a dentist for preventive or restorative care. For example, during a routine visit, your denture can be taken off so your dental team can thoroughly clean your implants and examine your gums.
How Long Does the All-on-4 Process Take?
The All-on-4 treatment process usually takes several months. The first major step after the consultation is the dental implant placement surgery. During the same appointment, you may have your remaining natural teeth extracted. You will also get a temporary denture to go on top of your implants. After a healing period, which may last for a few months, you will get a permanent denture to replace the temporary one.
If you need any additional care, such as gum disease treatment or a bone graft, it could significantly extend your treatment timeline.
In most cases, the All-on-4 process is much faster than that for traditional dental implants.