All-on-4 – Williamstown, NJ
A Sturdier, More Lifelike Smile
If you already wear traditional dentures, you may have noticed that they tend to have a few shortcomings, such as slipping at unexpected times. In many cases, Dr. Kassem can offer an alternative: replacement teeth permanently attached to four dental implant posts courtesy of the All-on-4 procedure! If you're interested in learning more about this treatment and the advantages it provides, contact our office to set up a consultation.
Why Choose iSmile Dental Arts for All-on-4?
Dental Implants Placed In-House
Advanced Treatment Planning Technology
Convenient Financing Options
How Do All-On-4 Implants Work?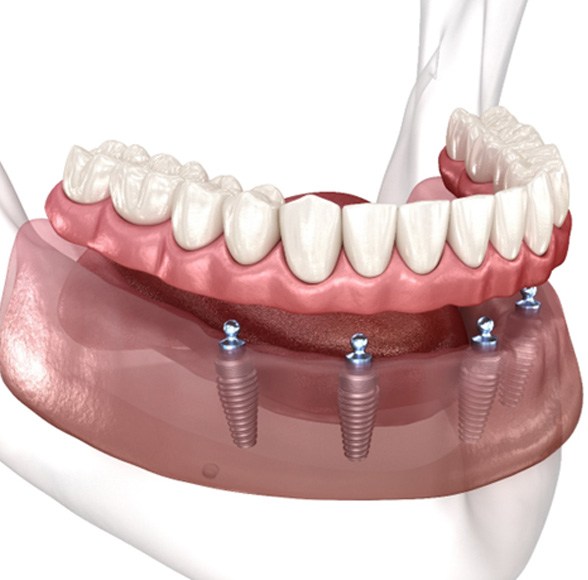 Each implant used for the All-on-4 procedure is surgically inserted into the jawbone at a specifically chosen location. The posterior implants (that is, the ones located near the back of the mouth) will both be angled in a way that lets them join with the parts of the jaw where bone density is higher.
The four implant posts will act as artificial roots for a denture made out of lifelike materials, thus allowing you to re-complete your smile in a way that both looks and feels natural.
Am I a Candidate for All-On-4 Implants?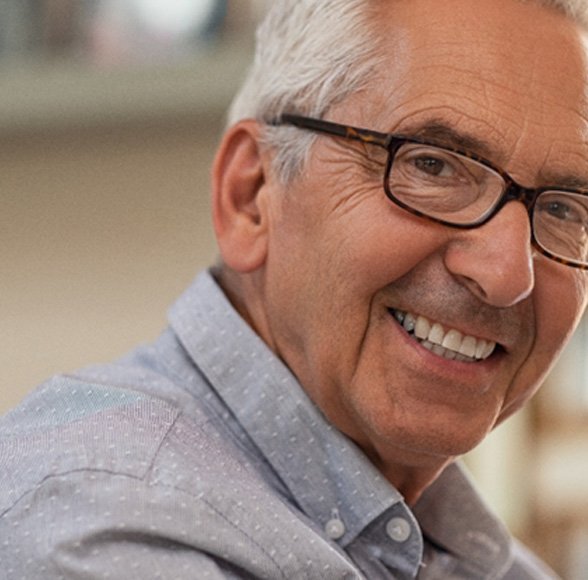 Have you lost most or all of the teeth in the upper jaw or the lower jaw? If so, All-on-4 can often be worth considering. Remember that in order to have dental implant surgery done, your mouth needs to be in good health. Our team will make sure you don't have gum disease or another dental issue that could cause complications.
Many people find themselves unable to get traditional dental implants because there isn't enough bone in their jaws. In this situation, All-on-4 might still be viable; the placement of the implant posts makes it possible to perform the procedure with less jawbone density.
Benefits of All-On-4 Implants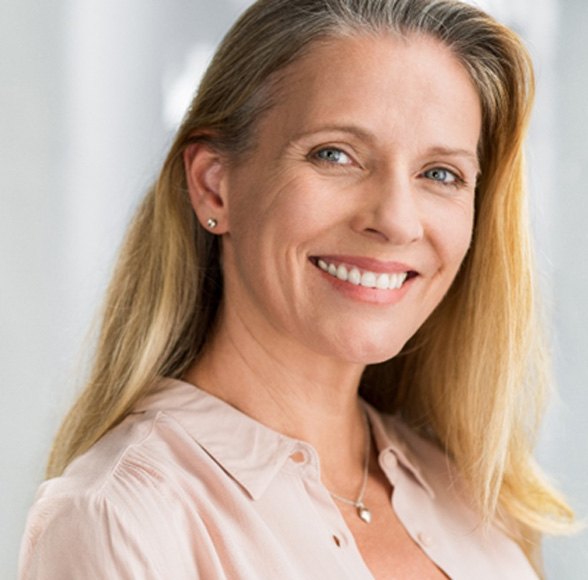 When comparing All-on-4 to other tooth replacement options, you'll quickly notice that the treatment has a number of advantages:
Your dentures will not shift or slip.
You can brush and floss like you normally would instead of removing your dentures to clean them.
The implant posts will help stop bone loss in your jaw.
There won't be any restrictions on the kinds of foods that you can enjoy.
All-On-4 VS Traditional Implants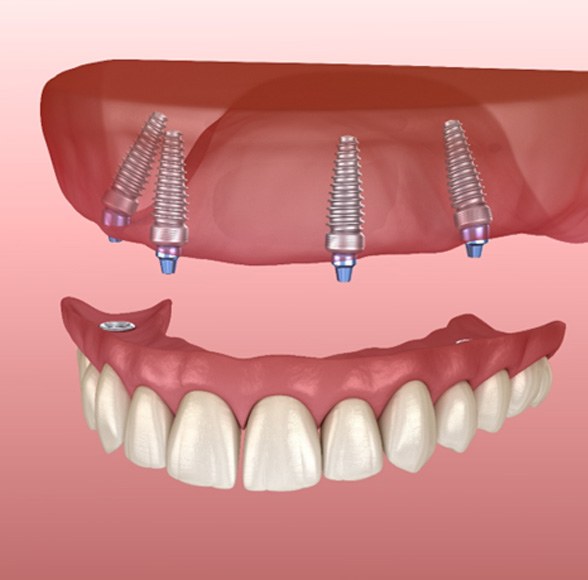 All-on-4 may seem somewhat similar to traditional dental implant placement. However, there are several important distinctions that you should be aware of:
With traditional dental implants, the number of posts needed for full dentures can vary. Sometimes as many as eight posts might need to be placed. All-on-4 only uses four posts, which means there's less surgery involved.
Some patients might only be candidates for traditional dental implants if they have bone grafting performed first. Since your mouth needs to fully heal from a bone graft before the next steps of the implant process can be taken, this can significantly extend your treatment timeline. But with All-on-4, bone grafting may not be necessary in the first place.
Sometimes the All-on-4 procedure allows us to attach a personalized denture to your newly placed implants right away. This means you won't have to worry about going without teeth for an extended period of time.