Dental Bridges – Williamstown NJ
Replace Missing Teeth with Personalized Restorations
When your teeth are missing, your oral health, quality of life, and self-esteem can all suffer as a result. These problems can't correct themselves, so it's important to visit Dr. Wael Kassem here at iSmile Dental Arts as soon as possible for the rejuvenating attention you need. With a personalized dental bridge in Williamstown, our team can seamlessly fill gaps and give you the confidence to smile again! Give us a call to set up your next appointment today!
Why Choose iSmile Dental Arts for Dental Bridges?
Highly Personalized to Your Exact Needs
Ceramic Materials for Best Esthetics
CEREC Same-Day Crowns Available
What is a Dental Bridge?
If you're missing one or more teeth in a row but are lucky enough to still have healthy adjacent teeth, a dental bridge could provide you with the restorative solution you've been searching for. We'll design your new bridge as precisely and beautifully as possible. Additional customized dental crowns will be used to anchor it within your smile. Many patients who've found themselves dissatisfied with the looseness of dentures may benefit from this much more durable treatment option.
Types of Dental Bridges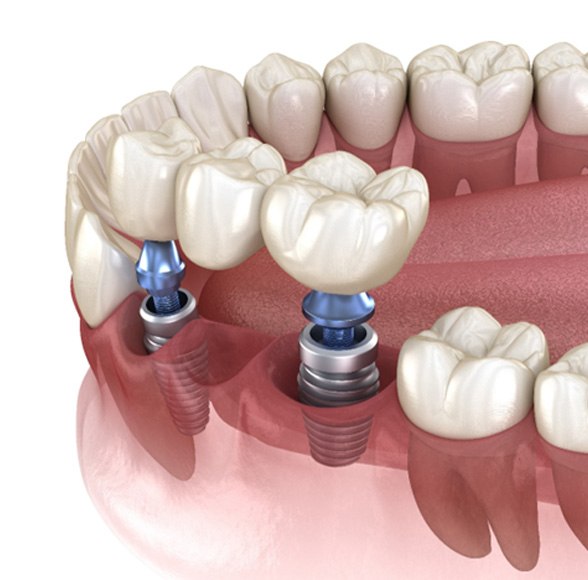 When considering dental bridges, you'll have two options to choose from. This includes traditional bridges and implant bridges, both of which accomplish the same goal in two very different ways.
Traditional Dental Bridge
The standard bridge consists of several crowns fused together and is bonded to natural teeth to remain in place. However, these teeth must be slightly modified in order for the bridge to keep stable. While this option is the more affordable solution for replacing single and consecutive missing teeth, some people may want to maintain as much of their existing natural tooth structure as possible.
Implant Bridge
To replace two or more teeth in a row, we may use fixed bridges attached to dental implant posts. These implant bridges offer a close-to-natural dental restoration option by restoring the tooth roots and crowns of missing teeth. Two dental implant posts will be surgically placed into the gum line, supporting both ends of your implant bridge. These tooth replacement prosthetics are long lasting, natural looking, and easy to care for, leaving you with a whole, healthy smile you'll be proud to share in every situation.
Learn More About Dental Implants
The Benefits of Getting a Dental Bridge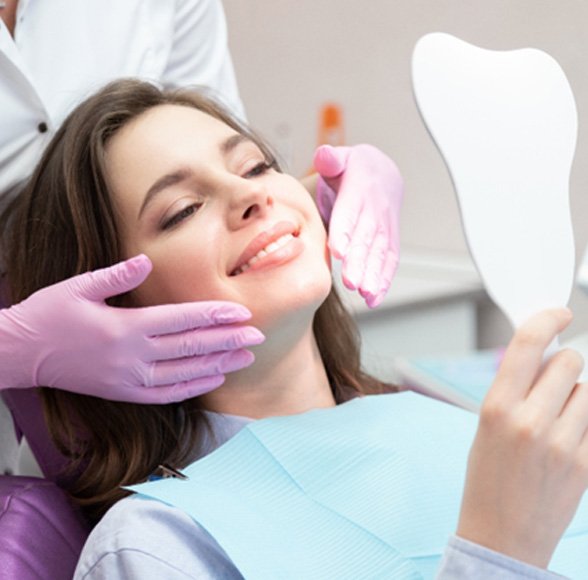 By replacing your teeth with a dental bridge, you can expect the following benefits:
Prevent existing teeth from shifting out of place into the open gap
Boosted confidence in your smile and overall appearance
Make chewing and breaking down food easier
Speak with better clarity
Reduce your risk of future oral health problems (i.e. misaligned teeth and jaw joint issues)
There's no better time than now to call iSmile Dental Arts and schedule a consultation, so don't wait another day to pick up the phone and learn if dental bridges are right for you!
Dental Bridges FAQS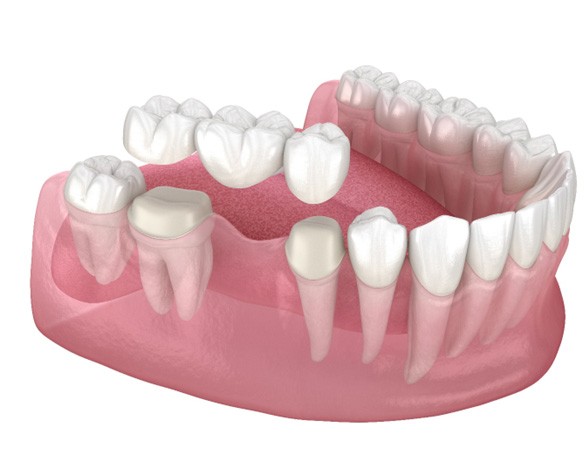 Are you curious about what to expect when you get your dental bridge? Our team will answer any questions you might have during your initial consultation, so let us know if there's anything you want to clear up before moving on with the process of replacing your teeth. We want to make things convenient for our patients, so below you'll find brief answers to some of the most common dental bridge questions that we've heard over the years.
Does It Hurt to Get a Dental Bridge?
Before preparing your teeth for a dental bridge, we will use a topical anesthetic to numb them so that you don't feel any discomfort during the treatment. Once you've received your dental bridge, you'll probably notice that the teeth supporting it are more sensitive than normal. This only lasts a few days, and taking over-the-counter medications usually helps to keep you comfortable. If the discomfort doesn't go away after a set time or seems to be growing worse, there's likely something wrong; call our office right away so we can help you figure it out.
How Long Should a Dental Bridge Last?
A dental bridge normally lasts anywhere between 5 and 15 years. The material used to make the bridge can have some influence on its lifespan, but by far the most important factor is the kind of care you give it. By practicing good oral hygiene, dropping bad habits like biting your nails, and visiting our office twice a year for checkups, you can help your bridge last for as long as possible. Keep in mind that bridges near the front of your mouth tend to last slightly longer than those near the back of your mouth since they tend to experience less wear and tear while chewing.
How Many Teeth Can a Dental Bridge Replace?
A dental bridge can be used to replace up to four consecutive teeth, although most only replace one or two at a time. The main reason for that is that longer dental bridges tend to be more unstable, particularly if the teeth that are meant to support them aren't in the best of health. This is less of a problem if your bridge is attached to dental implants, which fuse with your jawbone to keep your new teeth secure. Restorations attached to sturdy dental implants tend to be stronger and more stable in general, so there's less of a risk.
Can Dental Bridges Be Whitened?
No matter what your dental bridge is made out of, it cannot be whitened the same way your teeth can. Tooth enamel is porous, which allows bleaching gels to enter it and break up stains. Dental bridges, on the other hand, are not porous and thus won't respond to the whitening procedure. It's therefore best to have the rest of your teeth whitened before you get a dental bridge. That way, the restoration can be designed based on the current color of your smile so that it blends right in.