Dental Implants – Williamstown, NJ
The Modern Solution
to Tooth Replacement
Tooth loss can occur for a number of reasons, but it is always a devastating blow to your oral health and sense of self-confidence. In addition, if left untreated, remaining healthy teeth can begin to shift out of position to fill the space. Jawbone deterioration, periodontal disease, and additional tooth loss may also occur over time. Here at iSmile Dental Arts, Dr. Wael Kassem's top recommended reconstructive solution is dental implant tooth replacement. This revolutionary solution is long-lasting, durable, and completely natural-looking, so patients can get back to enjoying a smile that feels truly whole again. The best part is that Dr. Kassem can place and restore your dental implants all under one roof for quality, convenient, and consistent results. If you are interested in learning more, call our dental office to schedule a tooth replacement consultation with Dr. Kassem to discuss smile restoration with dental implants in Willisamstown, NJ.
Why Choose iSmile Dental Arts
for Dental Implants?
Entire Dental Implant Process Completed Under One Roof
Precise 3D Imaging & Custom Surgical Guides Used for Optimal Placement
In-House Dental Plan & Flexible Financing Options Available
What are Dental Implants?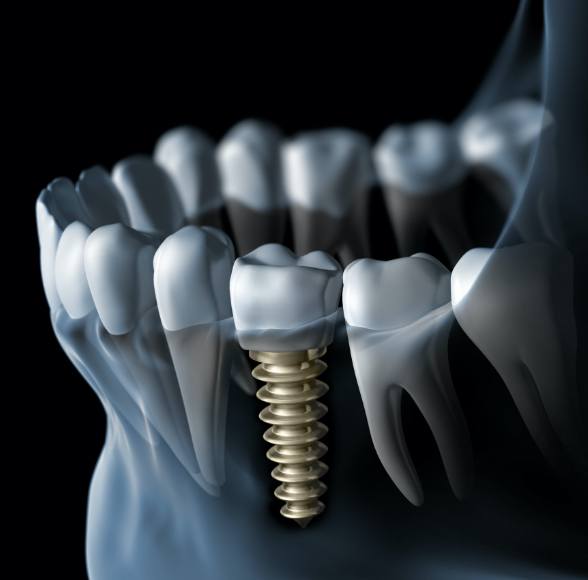 Dental implants give you a solution that closely mimics the appearance and function of your natural teeth. How do they do this? It is thanks to their unique construction and placement. Other tooth replacement options like dentures or dental bridges only replace the visible portion of missing teeth and rely on your healthy tooth structure or adhesive to stay in place. In contrast, dental implants are completely self-sufficient because they replace teeth both above and below the gum line.
A small titanium implant post is inserted directly into the jawbone to mimic the roots of your natural teeth. As it fuses with the surrounding bone tissue, it provides a reliable foundation for the replacement teeth it supports and encourages a stronger, healthier jawbone. Depending on how many teeth you are missing, the implant post or posts will be topped with a custom-made dental crown, bridge, or denture that blends in seamlessly with the rest of your pearly whites. Replacing missing teeth from the roots up gives you a smile that looks, feels, and functions just like natural, which is why dental implants are widely regarded as the gold standard of tooth replacement!
The Dental Implant Process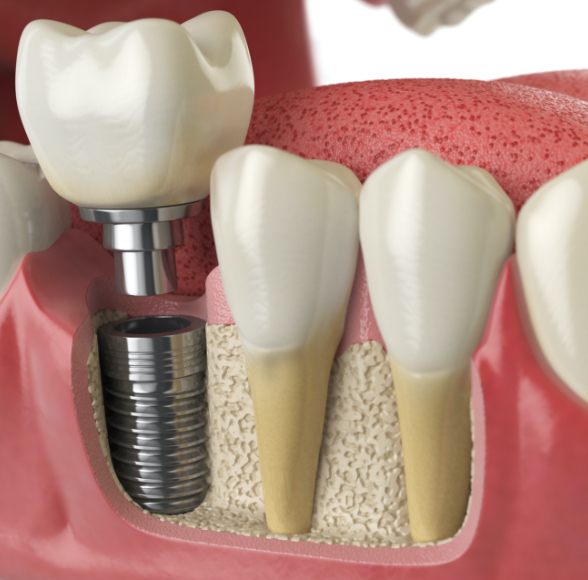 Rebuilding your smile with dental implants requires a multistep process that takes place over the course of several months. While this may seem like a very long time when compared to other options, the potentially permanent results are well worth the wait! During your consultation, your Williamstown implant dentist Dr. Kassem will walk you through every step of your upcoming treatment so you will know exactly what to expect. Every patient's tooth replacement journey will look somewhat different, but there are four main stages of dental implant treatment: initial consultation, implant surgery, osseointegration, and placement of final restorations.
Initial Dental Implant Consultation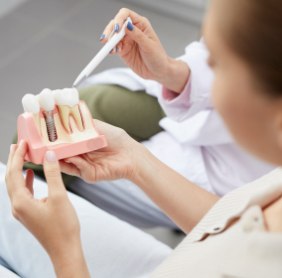 Dr. Kassem will methodically evaluate the current condition of your oral health, which includes capturing X-ray images, performing a visual assessment of your mouth and gums, and taking 3D images with a Cone Beam CT scanner to create custom surgical guides to ensure precise placement during the surgery. The purpose of this is to ensure the dental implant procedure will be a good fit for you. Issues like tooth decay, gum disease, and inadequate jawbone density can threaten the success of your dental implants, so many patients will first need to complete preliminary treatments.
Once you have healed from any necessary prior procedures such as bone grafting or gum disease treatment, Dr. Kassem will map out a dental implant treatment plan for you and walk you through it.
Dental Implant Surgery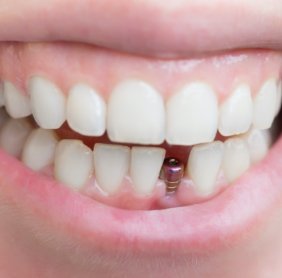 After your treatment plan is developed, we will schedule your dental implant surgery with Dr. Kassem. An added benefit of receiving dental implants at our dental office is that he can place and restore them all at the same location. This allows you to receive this state-of-the-art restoration from a dentist who you already trust.
Dr. Kassem will use 3D images and surgical guides to ensure the implant placement is precise and the surgery goes as smoothly as possible. The process starts with him making an incision in your gums to gain access to the underlying jawbone. Then, the dental implant post or posts are placed into the jaw in pre-determined areas. Afterwards, the gums will be sutured shut, a protective cap will be placed over the implant post, and you will be sent home to heal.
Dental Implant Osseointegration/Abutment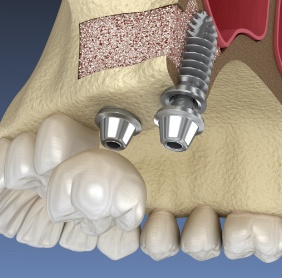 Titanium is a biocompatible material that is often used in all types of surgeries. As you heal from your surgery, the implant post undergoes a process called osseointegration. This involves new bone cells growing around the implant post over the next three to six months. Once the post has fully integrated, it will essentially be part of your jawbone.
Once you have healed sufficiently, an abutment can be added. Also made from high-grade titanium, this fixture is screwed onto the top of the implant. Eventually, it will be responsible for securing your restoration onto the implant post. We will take impressions of your mouth and begin creating your crown, bridge, or denture while you heal over the coming weeks.
Delivery of Dental Implant Restorations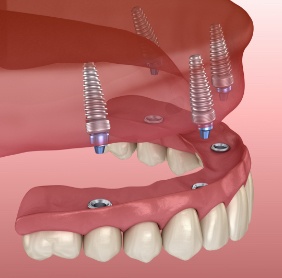 Once we have received your permanent restoration, we will invite you back to our dental office for the final step of your treatment. The crown, bridge, or denture will be fastened into place via the abutment. Then, once we have ensured that your bite is comfortable and that you are pleased with your results, you will be all set to show off your newly rebuilt smile!
Benefits of Dental Implants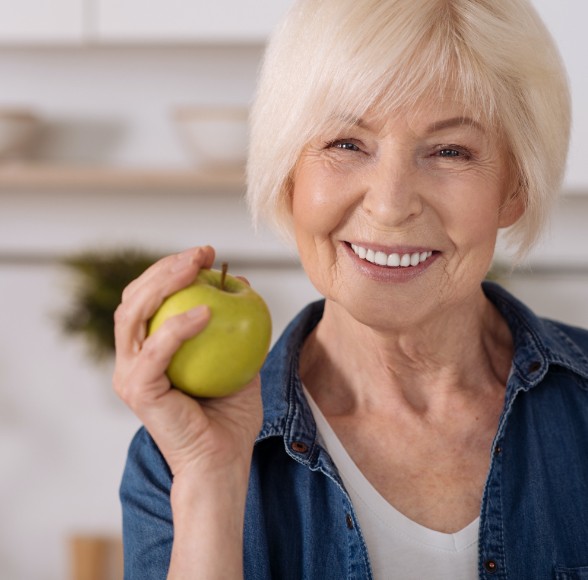 When you are trying to decide whether or not dental implants are right for you, it is important to understand what makes this treatment so beneficial. Not only will they help restore your smile and bite, but their unique placement in your jawbone will grant a wide range of advantages in various aspects of your oral and overall health. If you wish to learn more about the benefits of dental implants, don't hesitate to reach out to us to schedule a visit. In the meantime, here are some of the advantages you can be sure to enjoy with this treatment.
Day-to-Day Benefits
Stronger biting power: Dental implants rebuild the entire structure of your missing teeth from the roots up. Once the metal posts fuse properly with your jawbone, you can expect them to provide the stable foundation necessary for withstanding pressures from chewing. This means you'll be free to enjoy all your favorite foods, as you'll likely regain 80% or more of your natural biting force.
Easier teeth cleaning: Instead of needing special cleaning products or techniques like with dental bridges or dentures, your implants will simply need to be brushed, flossed, and rinsed with mouthwash just like your natural pearly whites.
Boosts confidence: Traditional dentures can sometimes come with challenges, such as accidental slippage or falling off at inconvenient times. With dental implants, you won't ever have to worry about your new teeth moving out of place, whether you're eating, conversing, or laughing. This can help you feel incredibly confident about your smile in the long run.
Health Benefits
Preserves the jawbone: Tooth loss often comes with further problems with the jawbone, as there aren't roots to stimulate proper bone growth. Since dental implants are embedded into the area, serving as your new roots, you can effectively preserve your facial structure or even reverse bone resorption.
Protects natural teeth: Any remaining teeth can be at risk of shifting out of place to fill in the gaps in your smile. By placing dental implants, they can serve as placeholders to maintain the others' positions.
Improved overall health: Having better oral health can often reduce your risk of developing other complications throughout the body, such as lung disease and heart disease. Since dental implants function as your natural teeth and are simple to care for, this makes it easier for you to keep other bodily diseases at bay.
Long-Term Benefits
Maintain a youthful appearance: Missing teeth can lead to jawbone deterioration, causing your jaw to shrink and alter your facial shape. Dental implants, however, can stimulate the jawbone indefinitely, allowing you to maintain a more youthful facial structure.
Impressive success rate: Dental implants often have an exceptional success rate of 95% or more, even 10 years after they've been placed.
Long-lasting solution: Compared to dental bridges and dentures, which usually need replacements after about a decade, dental implants can last several decades to a lifetime with proper care and regular visits to the dentist.
Who Can Dental Implants Help?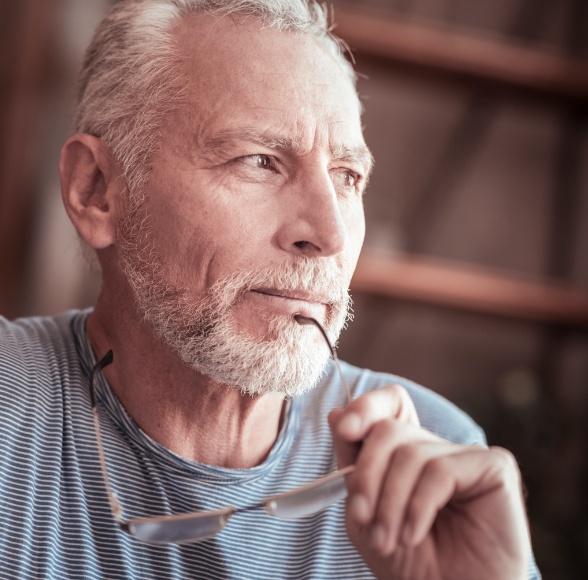 Contrary to common belief, if you have lost one, multiple, or all your natural teeth, you may be a candidate for dental implants. The ideal candidate has finished growing and has good oral and general health. Dr. Kassem will perform a thorough consultation to ensure dental implants are right for you. Besides a visual examination, he will also take images of your mouth and discuss your medical history to ensure there are minimal factors for complications. Then, he will design your treatment plan around the extent of your tooth loss.
Missing Single Tooth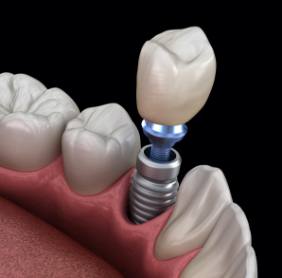 A single missing tooth can be replaced using an individual implant post to support a dental crown. Once in place, this flawless restoration will look and feel just like your healthy smile.
Missing Multiple Teeth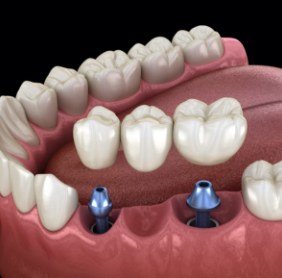 Following the loss of two or more consecutive teeth, we will place two implant posts to support a fixed bridge. The implants are positioned at both ends of the bridge, anchoring your prosthetic without the need to attach the bridge to healthy surrounding teeth. For more advanced tooth loss, we may recommend a partial implant denture to fill the gaps in your smile. Partial dentures can usually be supported by two to four implant posts.
Missing All Teeth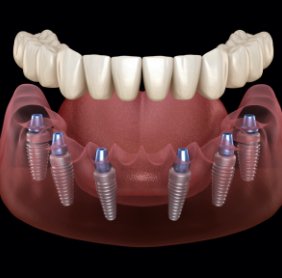 Implant dentures are a great choice for patients who currently wear traditional dentures or have suffered a significant amount of tooth loss. Instead of replacing every single missing tooth with its own implant, Dr. Kassem can save you valuable time and money by instead designing a denture that can simply snap over the implants in your jaw, creating a sturdy and confident feel for your newly completed smile. Both fixed and removable options are available, depending on your preference.
Learn More About All-On-4 Dental Implants
Understanding the Cost of Dental Implants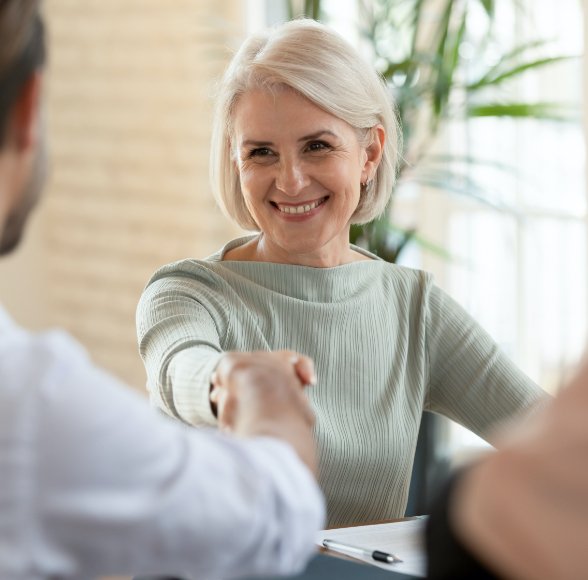 When we talk to patients about dental implants, one of the most common questions we get involves the cost of treatment and the best ways to pay for it. It is no secret that dental implants are more costly than traditional restorations; however, the benefits that come with treatment are truly second-to-none. Overall, Dr. Kassem and the team members at iSmile Dental Arts are confident that once your implants are placed, integrated and restored, you will feel good about your long-term investment not just for your daily life, but your oral health as well. Contact our dental office today and schedule a consultation to get started!
The Cost of the Dental Implant Posts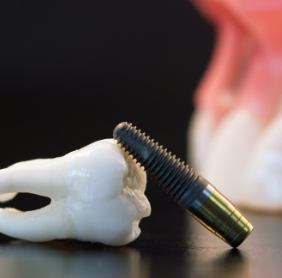 One of the most significant factors in determining dental implant treatment cost is the number of implants you intend on having placed. Not only does Dr. Kassem need to consider the material used to make the posts, but he needs to create a treatment plan to make the placement of said implants predictable and successful. Furthermore, placing four implants for an implant denture is going to take more time to plan for then a single implant to replace one tooth.
Preparatory Treatments to Consider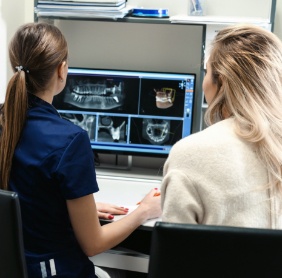 During your consultation, Dr. Kassem will need to examine the current amount of bone tissue present in your jaw prior to starting treatment. The amount of bone volume is particularly important to ensuring long-term success and proper integration of the post. If you do not have enough bone available for the number of implants you need placed, you will need to have a bone graft performed. This utilizes bone from either an outside source or from your own body to expand the amount of tissue present.
The Different Types of Restorations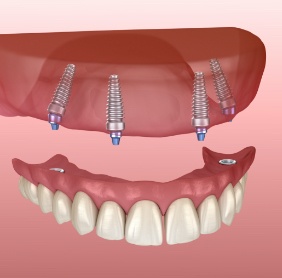 Lastly, the complexity of the restoration needed to restore your smile largely varies for a number of reasons. A single implant crown is always going to be cheaper than an implant bridge or denture, both of which require significantly more planning and preparation to ensure optimal comfort and an even bite.
Payment Plans for Affordable Treatment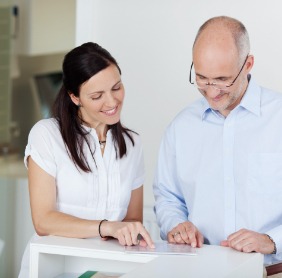 While most dental insurance plans do not cover dental implant treatment, there are some plans that may cover a portion for certain aspects of your treatment, including preparatory bone grafts. Regardless of what dental insurance you have, we will do everything in our power to ensure that you receive any available benefits. If you are part of our in-house membership plan, you can take advantage of discounts on certain services, including dental implants! You can also enroll into monthly payment programs like CareCredit, which offers stress-free financing at low to zero interest rates!
Advanced Dental Implant Procedures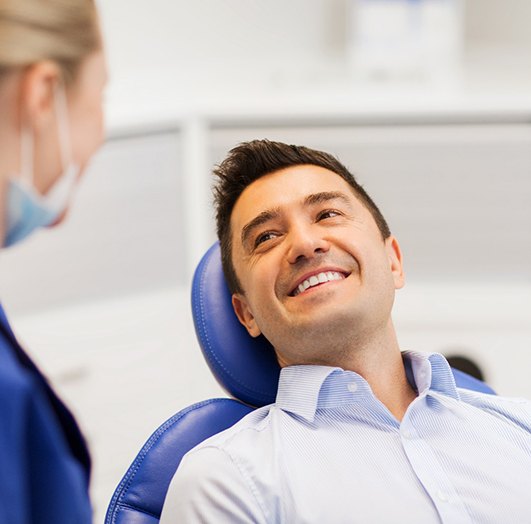 Implant placement is one of the most complex procedures in dentistry, which is why we make sure everything is lined up perfectly before we start it. In some cases, we need to perform additional treatment prior to the placement surgery to increase the chances of success. Here at iSmile Dental Arts, Dr. Kassem can take care of several complications in-house, enabling more patients to receive dental implants and regain a confident, complete smile.
Bone Grafting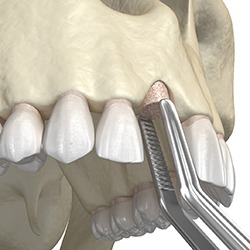 As soon as a tooth's root is removed, the jawbone starts to deteriorate because it depends on the root for stimulation. With time, the jawbone can shrink and lose density, which is essential to give implants stability. Through a bone graft, we subsidize the jawbone so there's enough to support implants. You should keep in mind that this procedure will add a couple of months to your overall treatment plan, but this is a small sacrifice to make to ensure that your implants will integrate with the bone properly.
Ridge Expansion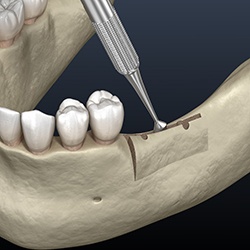 Not only does the jawbone need to have the right density and vertical depth, but it also needs to have the right width horizontally. If the ridge is too thin, the implants will not be secure. That's when Dr. Kassem can perform a ridge expansion. In this procedure, he widens the ridge so that it can surround the implant post entirely, providing more stability and strength. After you've recovered from this procedure, we may be able to move forward with implant placement or a bone graft, depending on your situation.
Dental Implant Technology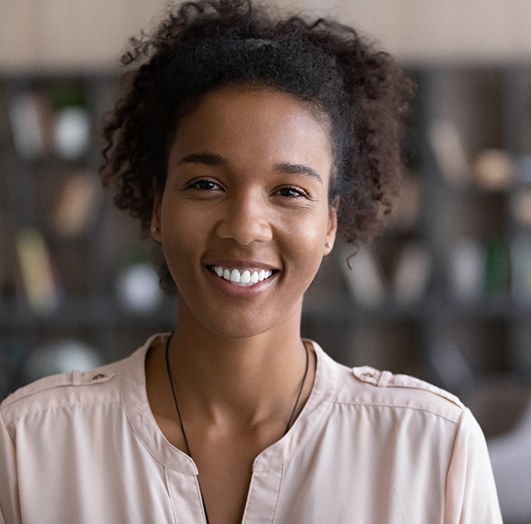 Dr. Kassem and the rest of the team at our Williamstown office are fully dedicated to bringing our patients safe, efficient dental care with the help of state-of-the-art technology. For advanced procedures like dental implant placement, using the latest instruments is even more important; we want to take every step possible to make the procedure a success so that by the end you'll have a strong, healthy new smile that you can count on to last for decades.
3D Cone Beam Imaging/3D CT Scanning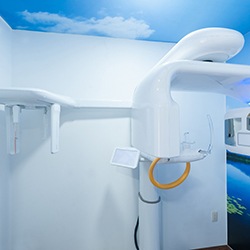 Cone beam imaging involves creating a three-dimensional image of the inside of your mouth to help us plan advanced procedures like dental implant placement. Our CT (computed tomography) scanner will fully rotate around your head, taking up to 200 pictures at different angles. All of these images are created into a single 3D model that tells us where various dental structures are. This allows us to determine the best location for your dental implants as well as the best angle for inserting them into the jawbone. Using cone beam imaging to give ourselves a more accurate understanding of your mouth makes it easier for us to anticipate potential obstacles during implant placement and improve our overall chances of success.
Guided Dental Implant Surgery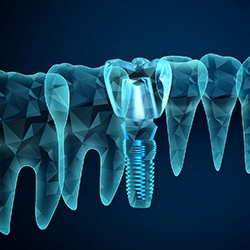 Our CT scans can be used to directly guide the surgical process. We can create a model that allows us to perform a virtual surgery, making it easier to visualize the correct positions of dental implants. This is particularly useful if you've lost all the teeth in a single arch; the lack of landmarks can make it more difficult to identify the correct spot for an implant, but a computer-generated guide makes the process far easier.
Antibacterial Coating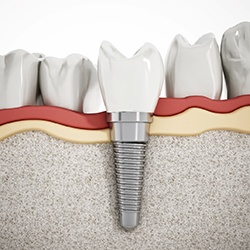 Modern dental implants can be given a special antibacterial coating before being placed in your jaw. The solution will fight any bacteria around the implant posts during the osseointegration process. This lowers the risk of an infection occurring before your mouth has fully healed. Many dentists are coming to rely on implants with antibacterial coating because they add another layer of safety to the process overall.
Digital Impression System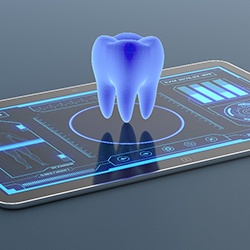 Once your mouth has healed from implant surgery, we can begin the process of designing a crown or another restoration. No two mouths are the same, so the first step is to take an impression of your mouth, allowing a trusted dental lab to create a restoration that's the right size, shape, and color for your mouth. However, instead of having you bite down on unpleasant-tasting putty for several minutes, we can instead scan your mouth with our digital impression system. Not only is this method faster and more comfortable for our patients, but it's also much more accurate; physical impressions sometimes need to be redone due to errors, but a digital impression correctly captures the necessary details the
Dental Implant Failure & Salvage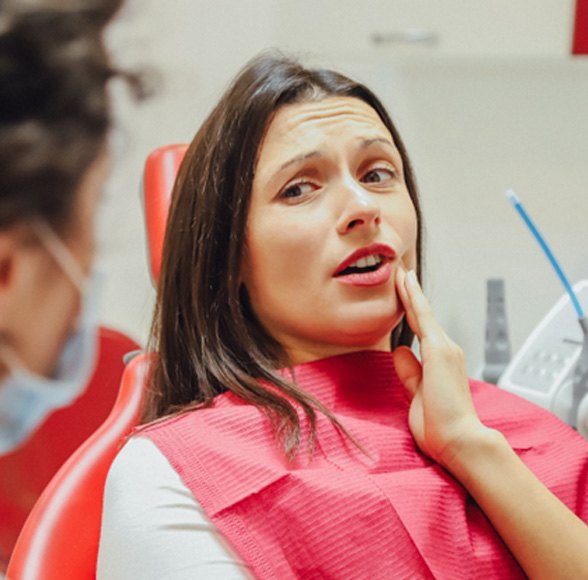 Dental implants are successful more than 95% of the time. However, in rare situations, it is still possible for dental implants to fail. This is due to an infection, trauma, or other circumstances. If one of your dental implants feels loose or you are experiencing unusual pain, get in touch with us. This way, Dr. Kassem can assess the issue and do everything in his power to preserve your restored smile.
Learn More
Dental Implant Frequently Asked Questions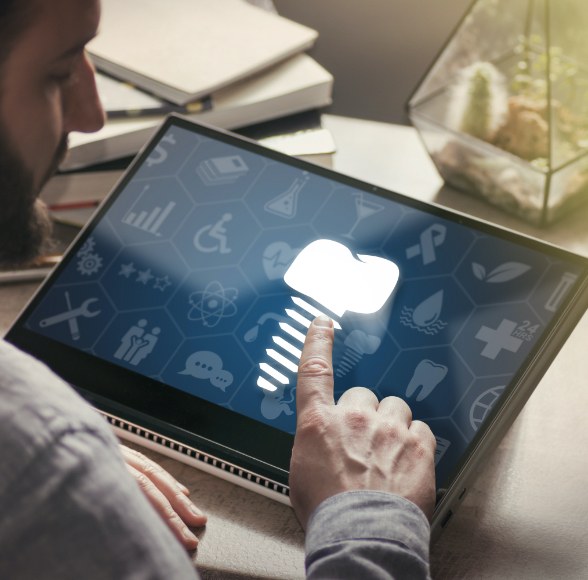 Choosing dental implants to replace your missing teeth is a big decision. You probably have plenty of questions to ensure they are the right treatment for you. Dr. Kassem takes the time to thoroughly explain the process and answer any questions you have during your initial consultation. You can head into your procedure feeling confident in your decision by having the information you need to successfully rebuild your smile.
Does getting dental implants hurt?
Replacing a tooth with a dental implant requires oral surgery to place a titanium post into your jawbone. Do not worry, you will not feel anything because a local anesthetic is used to numb the area. If your case is complex or you are having several teeth replaced, you may need sedation or general anesthesia.
Although you will not feel any pain during the surgery, it is normal to have some discomfort for a few days while you heal. You can use an over-the-counter pain reliever to keep it controlled.
How common is dental implant failure?
The risk of implant failure is generally less than 5%. In some cases, they fail almost immediately after they are placed, which can result from inadequate bone density in the jaw. If failure occurs several weeks, months, or years down the road, it is usually the result of an infection called peri-implantitis. You can reduce your risk of dental implant failure by maintaining your oral hygiene and visiting your dentist regularly for a cleaning and checkup.
Can smokers get dental implants?
Smoking limits your body's ability to heal and fight infections. As a result, it is a good idea to kick the habit to ensure the success of your new smile. It is best to stop smoking at least 2 weeks before your oral surgery. It is important to tell Dr. Kassem about your tobacco use to ensure the right preventive steps are taken to help your new smile thrive.
Maintaining & Caring for Your Dental Implants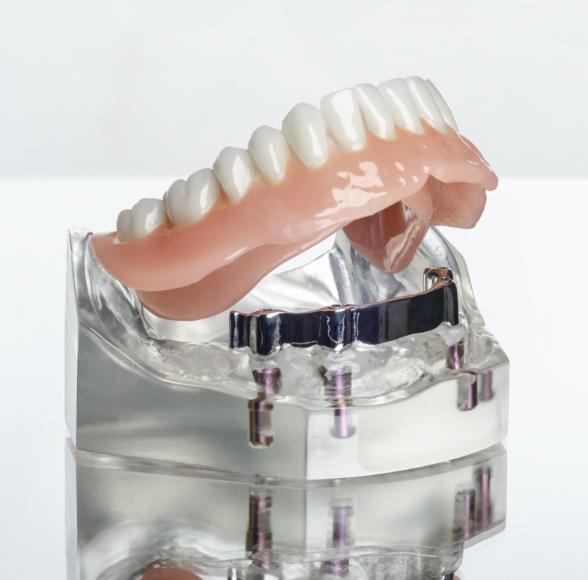 Now that you have replaced your missing teeth, it is time to protect your investment. Dental implants are proven to last for decades if you take the time to care for them. You will never need to worry about needing to have them replaced by committing to your oral hygiene at home and visiting your dentist regularly for a cleaning and checkup.
Make Oral Hygiene a Priority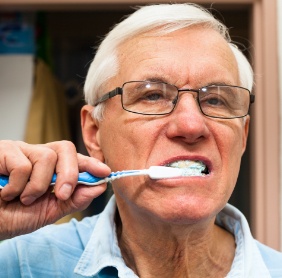 Oral hygiene with dental implants is more important than ever. The biggest threat to the long-term success of your new smile is an infection called peri-implantitis. Thankfully, it can be prevented by maintaining your oral hygiene at home.
Use a soft-bristled toothbrush and nonabrasive toothpaste to clean your restorations and any natural teeth at least twice a day. To remove buildup your toothbrush cannot reach, choose a high-quality dental floss to clean in between each natural tooth and around your abutments daily. Some people find a water flosser to be easier and more effective to use than traditional floss.
Protect Your Dental Implants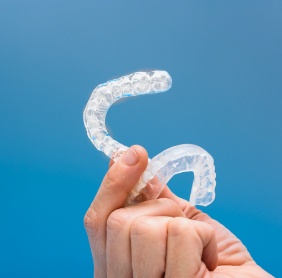 Dental implants are made from durable material, but they are not indestructible. If you participate in sports, it is important to wear a custom-fit athletic mouthguard. Not only will you protect your smile, but you can also reduce your risk of concussion if there is trauma or injury to your face or mouth.
If you suffer from bruxism, ask your dentist for a nightguard. It provides a protective barrier between the top and bottom teeth to take unnecessary pressure off your dental implants.
It is also recommended you avoid using your teeth or dental implants as tools, such as to open packages. It is also best to avoid chewing on inedible objects, like your fingernails or pencils.
Schedule Regular Dental Checkups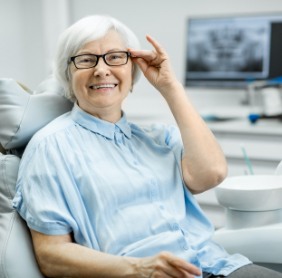 Your routine dental appointments are more important than ever. Besides your home oral hygiene routine, your new smile relies on the preventive services you receive from your dentist. It is best to schedule an appointment at least twice a year for a cleaning and checkup.
Your dental hygienist thoroughly cleans your teeth and dental implants to remove any harmful accumulations. They will also take the time to discuss your oral hygiene routine and make recommendations for improvement, like using a mouthwash to reduce harmful bacteria in your mouth.
Besides a cleaning, a checkup will protect your new smile from complications. Dr. Kassem monitors your oral health to detect any concerning areas while they are still small, like an infection. Quick intervention can prevent your dental implants from failing.
Dental Implant Post-Op Instructions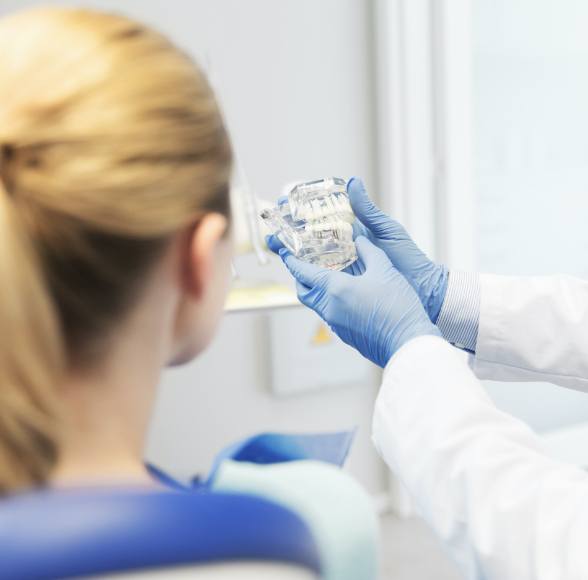 Rebuilding your smile with dental implants requires a multistep process that takes place over the course of several months. While this may seem like a very long time when compared to other options, the potentially permanent results are well-worth the wait! During your consultation, your Williamstown implant dentist Dr. Kassem will walk you through every step of your upcoming treatment so you will know exactly what to expect. Every patient's tooth replacement journey will look somewhat different, but there are four main stages of dental implant treatment: initial consultation, implant surgery, osseointegration, and placement of final restorations.
What to Do Directly After Dental Implant Surgery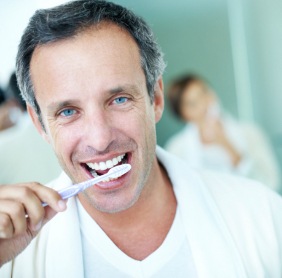 After the surgery, your main concern should be to make sure the blood clot at the surgical site remains completely untouched. Avoid drinking from straws, smoking, or putting your fingers or tongue on the surgical site. You can still brush your teeth after implant surgery – and in fact you should go out of your way to make sure the surgical site stays as clean as possible – but make sure that you are extremely gentle while doing so.
Common Side-Effects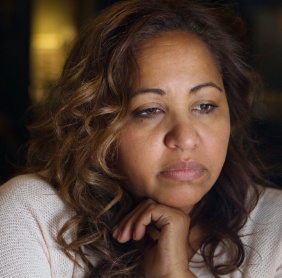 It's important to be able to recognize which symptoms are normal after implant placement and which require an emergency appointment. Reach out to us immediately if pain and swelling become severe and don't fade over time. Under normal circumstances, you can expect to see:
Gradual and intermittent bleeding that can be stopped by applying pressure with gauze.
Pressure that lasts for over a week that can be reduced with a cold compress.
Mild discomfort that can be managed with medication.
Diet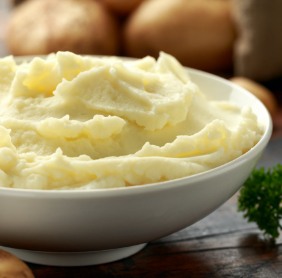 Stick to soft or liquid foods that require little to no chewing; you don't want to put too much stress on your mouth until you've fully recovered. Some good examples of foods that you should stock up on beforehand include mashed potatoes, yogurt, ice cream, pudding, scrambled eggs, and pasta. Soup's a good choice as well as long as it's not too hot. You should be able to return to a normal diet in a few days, but even then, you'll need to avoid chewing directly on the implant site.
Health & Oral Hygiene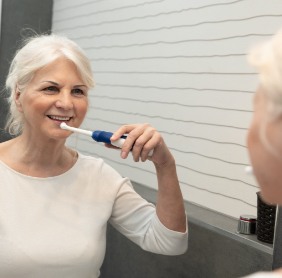 In order to keep your mouth clean after implant surgery, be sure to brush like you normally would. Be very careful not to put too much pressure on the implant site with your toothbrush. Rinse with salt water at least two to three times every day; this will help kill bacteria that could potentially cause an infection. You can rinse with mouthwash as well, but make sure that it doesn't contain any alcohol.
What to Do After Your New Teeth Are Attached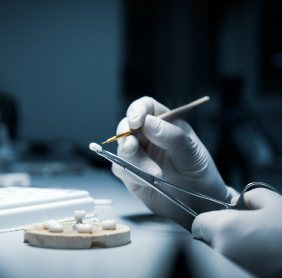 The final restorations will be attached to your dental implants after your mouth has fully healed and the posts have completely fused with the jawbone. This is a very simple process compared to dental implant surgery. Some minor sensitivity might occur, but you can take pain medication if you need to. Swelling or bleeding should not occur after restoration placement, so tell us right away if you experience these symptoms.