Dental Implants - Williamstown, NJ
Turn Back the Clock on Tooth Loss
Tooth loss can occur for a number of reasons, but it's always a devastating blow to your oral health and sense of self-confidence. What's worse is that, if left untreated, remaining healthy teeth can begin to shift out of position to fill the space. Jawbone deterioration, periodontal disease, and additional tooth loss may also occur over time. Here at iSmile Dental Arts, Dr. Willy Kassem's top recommended reconstructive solution is dental implant tooth replacement. This revolutionary solution is long-lasting, durable, and completely natural-looking, so patients can get back to enjoying a smile that feels truly whole again. The best part is that Dr. Kassem can place and restore your dental implants all under one roof for quality, convenient, and consistent results. If you're interested in learning more, call our Williamstown dental office to schedule a tooth replacement consultation with Dr. Kassem.
Benefits of Dental Implants
When you're trying to decide whether or not dental implant tooth replacement is right for you, it's important to understand what makes this treatment option so beneficial. Some of the many reasons patients choose dental implant tooth replacement include:
It's the only tooth replacement option that's fully self-supporting because both the tooth's root and crown are replaced.
Because the replacement tooth or teeth are anchored to a prosthetic tooth root (the dental implant post), there's no damage to surrounding teeth that would otherwise need to provide support for the restoration.
Restoring your full smile, dental implants look, feel, and function almost exactly like your natural teeth. You can speak clearly, eat a variety of nutritious foods, and smile confidently in any situation.
After 20 years, implant supported replacement teeth have a 90 to 95% success rate, and many patients are able to keep their dental implant supported tooth replacements for the rest of their lives.
Indications for Dental Implants
The secret behind the success of implants is that they replicate the entire structure of the tooth, not just the crown that shows when you smile. By providing a new tooth root as well, implants keep the jawbone full and healthy, helping patients lessen the chances of deterioration and additional tooth loss over time.
Once Dr. Kassem has determined that you're a viable candidate for implants, the first step will be to schedule your surgery. You will come into our office, where Dr. Kassem will ensure that you're numb and comfortable before making small incisions in your gums to reveal the jawbone. After, he will drill tiny holes, where the implants will be placed. Then, patients will need to undergo a period of healing of at least 3 to 4 months so that the new implants can form a bond with your natural tissue. Lastly, you'll return to our Williamstown, NJ dental office, so we can design and place new, tooth-colored restorations on top, giving you back the complete, capable smile you've been sorely missing.
Learn How Dental Implants Work
Missing Single Tooth
A single missing tooth can be replaced using an individual implant post to support a dental crown. Once in place, this flawless restoration will look and feel just like your healthy smile.
Learn More About Single Tooth Dental Implants
Missing Multiple Teeth
Following the loss of two or more consecutive teeth, we'll place two implant posts to support a fixed bridge. The implants are positioned at both ends of the bridge, anchoring your prosthetic without the need to attach the bridge to healthy surrounding teeth. For more advanced tooth loss, we may recommend an implant retained partial denture to fill the gaps in your smile. Partial dentures can usually be supported by two to four implant posts.
Learn More about Implant-Supported Bridges
Missing All Teeth
Implant-retained prosthetics are a great choice for patients who currently wear traditional dentures or have suffered a significant amount of tooth loss. Instead of restoring each placed implant with its own crown, Dr. Kassem can save you valuable time and money by instead creating a denture and/or bridge that can simply snap over the implants in your jaw, creating a sturdy and confident feel for your newly completed smile. Both fixed and removable options are available, depending on your unique preference.
Learn More about Implant-Retained Dentures
Understanding the Cost of Dental Implants
There are many factors that impact the price of your dental implant tooth replacement plan. In order to get a clear picture of your costs, you'll need to schedule a consultation appointment with us at iSmile Dental Arts. During this appointment, we'll walk you through each step of the process – preparation, implant placement, abutment attachment, and placement of prosthetic teeth. Our knowledgeable team members will walk you through the price of each treatment, explain any dental insurance coverage, and partner with you to plan for financing every stage of the implant tooth replacement process. While these restorations are costlier than other options, they last significantly longer, offer added stability, and ensure your comfort and confidence. In short, dental implants are an investment in your lifetime of healthy, happy smiles.
Learn More about the Costs of Dental Implants
Dental Implant FAQs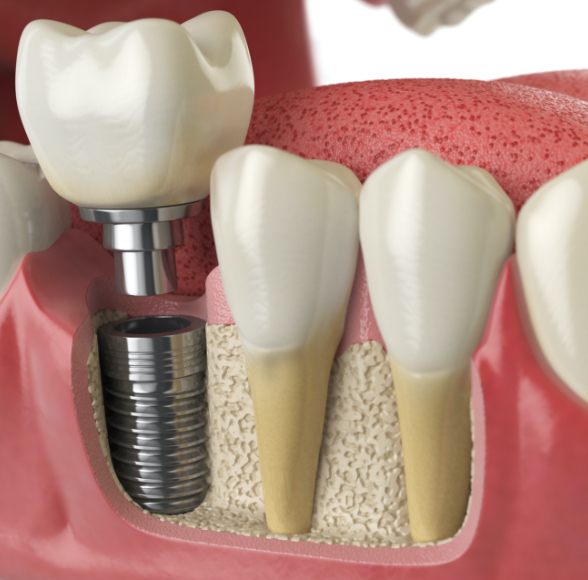 Choosing dental implants to replace your missing teeth is a big decision. You probably have plenty of questions to ensure they are the right treatment for you. Dr. Kassem takes the time to thoroughly explain the process and answer any questions you have during your initial consultation. You can head into your procedure feeling confident in your decision by having the information you need to successfully rebuild your smile.
Learn More About Dental Implants
Dental Implant Aftercare Instructions
Now that you've replaced your missing teeth, it's time to protect your investment. Dental implants are proven to last for decades if you take the time to care for them. You'll never need to worry about needing to have them replaced by committing to your oral hygiene at home and visiting your dentist regularly for a cleaning and checkup.