Dentures – Williamstown, NJ
Say Goodbye to Gaps
in Your Grin
Whether you are missing one tooth or a whole row of pearly whites, the need for replacement cannot be understated. Having a complete smile not only impacts the way you feel about yourself—and, quite frankly, what others think when they see you—but can also influence both your oral health and physical wellbeing. At iSmile Dental Arts, Dr. Willy Kassem offers three different types of dentures for Williamstown, NJ dental patients: partial, full and implant retained. All are a reliable method of providing you with a smile that is strong, durable, and natural-looking.
The Consequences of Missing Teeth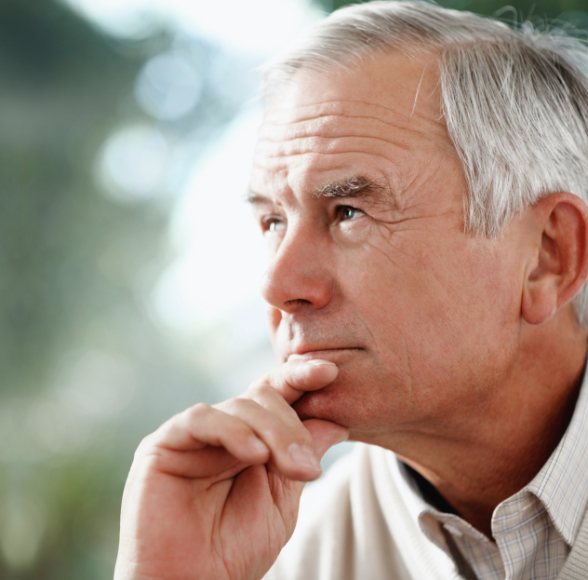 Just in case the appearance of a missing tooth isn't enough to convince you to have dentures, here are some other important factors to consider. First, a missing tooth increases your risk of tooth decay and gum disease, two conditions that are often a leading cause of tooth loss initially. Secondly, the adjacency of teeth not only looks attractive, it also helps to maintain a proper bite and alignment. When a tooth is missing, others may start to shift in order to fill the vacant spot. Finally, tooth loss can make eating a nutritious diet more difficult. Many people with missing teeth are forced to eat a soft food diet that does not include healthy raw vegetable and lean meats. For all of these reasons and more, tooth replacement is essential.
Full Dentures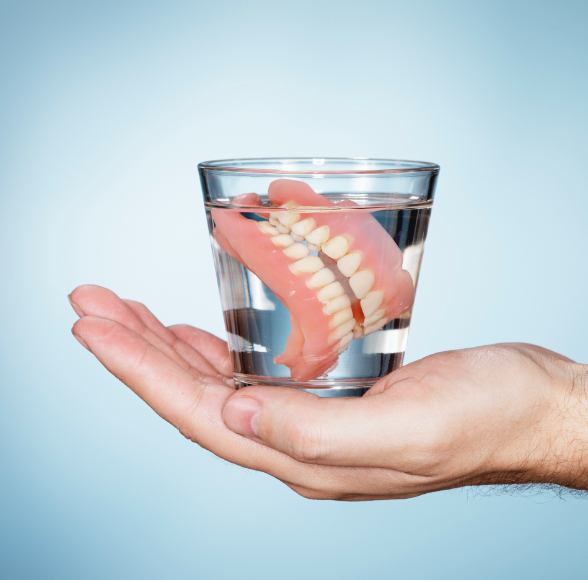 For patients who are missing all of their teeth along one or both arches, Williamstown dentist Dr. Kassem can design a full denture. Thanks to advances in dental prosthetic materials and production, your new dentures will look natural and feel comfortable in your mouth. Of course, you'll need to be patient, because adjusting to dentures does take a bit of time. But once you're used to your dentures, you'll be amazed at how good they look and how securely they stay in place.
Partial Dentures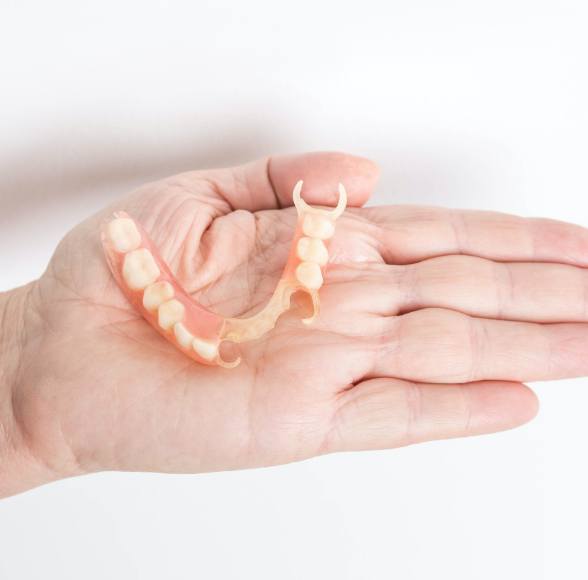 Partial dentures are ideal if you are missing one or a few teeth. Even if the missing teeth are not consecutive, Dr. Kassem can design a partial denture to fit between your remaining teeth. A partial is made of false teeth, also called pontics, which are attached to a metal framework. The frame is usually hidden and comfortably clips to adjacent natural teeth.
Dental Implant-Retained Dentures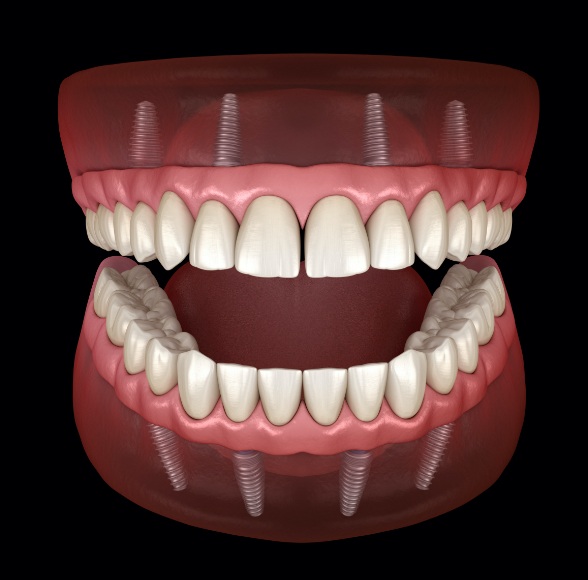 For the ultimate in a secure fit, Dr. Kassem recommends implant dentures. These are held in place by dental implants that are surgically embedded in your jaw by an oral surgeon or periodontist that Dr. Kassem works with regularly. Once you've healed and the implants are fully integrated with the bone, Dr. Kassem attaches your denture. Some patients who have been wearing removable dentures for years switch to implant dentures and are remarkably impressed by how securely they fit.
Am I a Good Candidate for Dentures?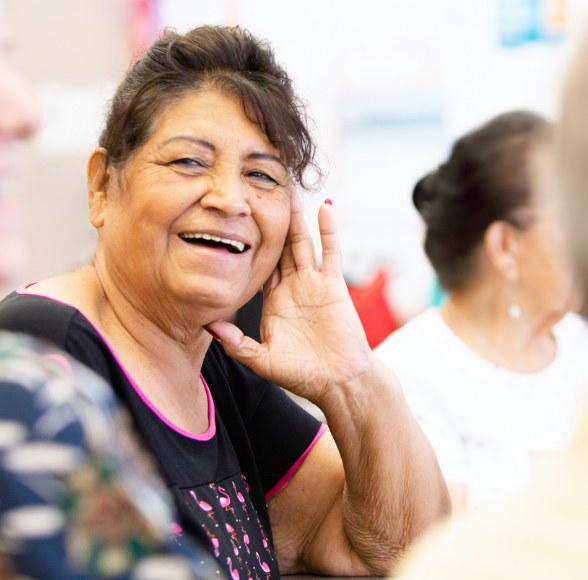 Generally, if you're missing some or all of your pearly whites, dentures may be just the solution for you. However, if you're considering implant dentures, you must have an adequately strong jawbone. Since prolonged tooth loss weakens the jawbone, you may have to undergo a bone grafting procedure beforehand to help strengthen the bone until it's dense enough to support your new teeth.
How Dentures Are Made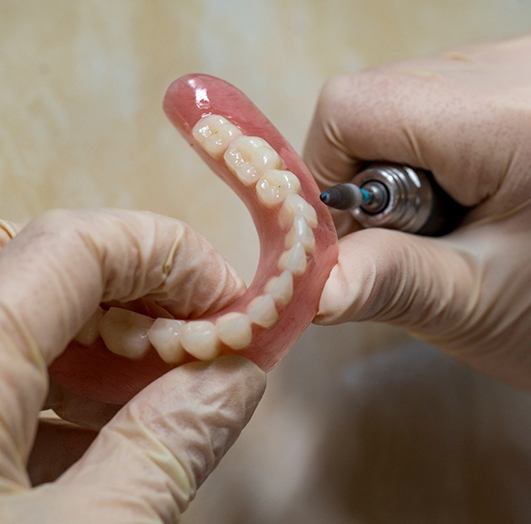 You know dentures are designed just for you, but what does the process look like? Understanding how they're made and which materials are used will help you to appreciate your smile that much more. Continue reading to learn how we get to the final results.
What Are Dentures Made Of?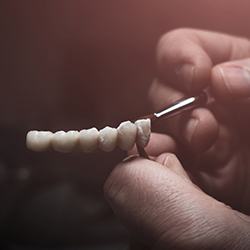 Dentures are made of two different parts: the base of the denture and the teeth. Here's what each component is comprised of:
Denture Base: This is the foundational structure that gives the artificial teeth support. It can be made from a variety of different materials, including acrylic, nylon, or resin. Full dentures are most often made using acrylic because it can be tailored to closely match your natural gum tissue. Partial dentures may use metal clips with an acrylic base, and, in some cases, nylon is used in place of acrylic.
Artificial Teeth: The replacement teeth are attached to the denture base. They are often made from resin or porcelain because they both have a natural appearance. However, porcelain is a more popular option because it looks and feels just like natural teeth. It's also a very durable material.
The Denture Creation Process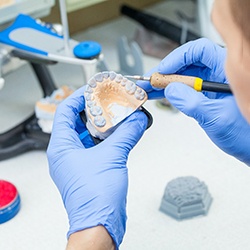 Each denture is custom-made for the patient's mouth, so it requires a multi-step process. First, Dr. Kassem will take impressions of your upper and lower gums using a thick paste. This will be used to create a plaster model that is the exact size and shape of your mouth. This model is used to ensure the final denture is made to perfectly fit your unique smile.
The plaster model is sent to a dental laboratory where your dentures will be made. They will start by creating a wax replica of your gumline. The artificial teeth are then set in place and a mechanical device known as an articulator will be used to attach the teeth with wax. The technician will make minor adjustments.
The wax dentures are sent back to the dental office for a fitting. If they look good, they will be sent back to the dental lab to complete the process. This involves the technician boiling the dentures. This process is completed by placing the dentures in a flask, adding plaster to hold their shape, and then placing the flask in hot water to melt away the wax portions. Holes are made in the teeth and acrylic is injected into the flask to replace the wax.
The plaster is carefully removed from the denture using special tools. Then, the dentures are placed in an ultrasonic bath to remove any remaining plaster. Excess acrylic will also be cut from the denture. Lastly, the restoration will be polished to perfection.
Once the dentures are ready, you will return to the office for a fitting. Adjustments will be made, if needed, to ensure everything is working properly and smoothly.
Adjusting to Your New Dentures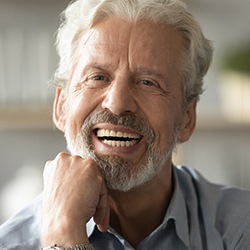 You may feel slight discomfort when you first get new dentures. Fortunately, this is completely temporary. With a little bit of time, your mouth will adjust to dentures, and they'll feel very similar to natural teeth. During your adjustment period, remember to stick to softer foods and exercise your facial muscles. If the discomfort persists, give us a call so we can help!
Benefits of Dentures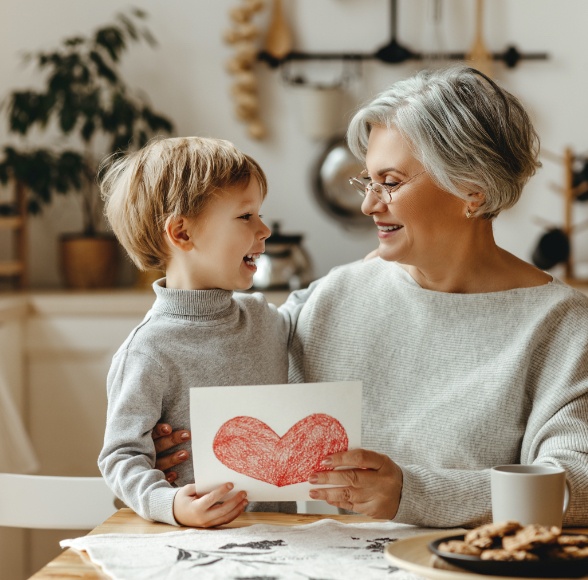 No matter which kind of dentures you receive, they come with a multitude of benefits, including:
Increasing your self-esteem
Supporting your facial muscles
Allowing you to eat a healthy diet of nutritious foods
Letting you smile with complete confidence again
Being both functional and comfortable
Looking like a totally natural part of your smile
Tips for Day-to-Day Denture Use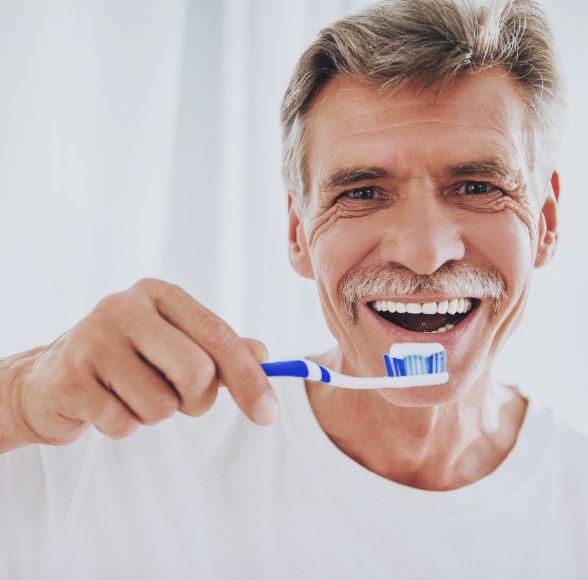 Here are some tips to make your new life with dentures a little easier:
Brush your dentures every day to prevent staining and plaque buildup that can cause gum infections.
Gently brush your gums, tongue, and palate at least once a day. It also helps to rinse with an antimicrobial mouthwash.
While you sleep, let your dentures soak in cool or lukewarm (never hot) water or denture cleanser. Not only does this give your dentures a chance to get clean, but it lets your gums and jawbone rest after the pressure of holding the dentures in place all day.
If you're having trouble eating, try a bit of denture adhesive.
Start by cutting your food into bite-sized chunks and gradually work up to larger sized bites.
Avoid dry mouth (which can cause infections) and stay hydrated by regularly sipping water throughout the day.
Are you ready to say goodbye to the gaps in your grin? Then contact us to set up a consultation for dentures. It could change your smile and your life!
Understanding the Cost of Dentures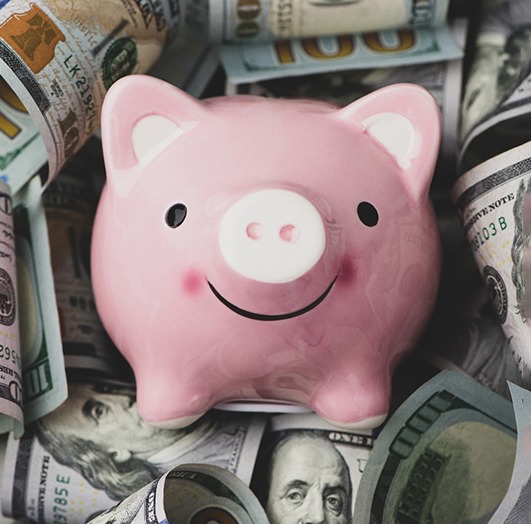 The cost of dentures will vary from patient to patient, as every case is different. There are all sorts of factors that contribute to the cost. During your initial consultation with us, it will be determined exactly how much you can expect to pay for your new restoration. Until then, here are some things that you should consider.
Factors that Affect the Cost of Dentures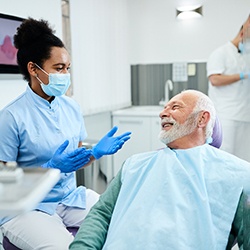 There are three major factors that influence the cost of dentures:
Any preparation required before you get your dentures will influence your overall treatment cost. This includes needed extractions and gum disease therapy.
The materials used for the base and replacement teeth will play a role. The base is typically made from acrylic while the replacement teeth can be crafted from either acrylic or porcelain.
The number of teeth that you are needing to have replaced plays an important factor. The more teeth, generally the higher the cost.
Remember that cheaper doesn't mean better when it comes to dentures. If you end up opting for budget dentures, they will be more likely to require repairs or replacements sooner than quality ones. You don't want to end up with a subpar restoration.
Are Implant Dentures More Expensive?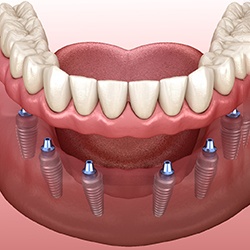 Implant dentures cost more than traditional dentures, but there are good reasons for it. Instead of being supported by the shape and suction of the gums, implant dentures are held in place by a series of dental implants that are placed in the jawbone via a surgical procedure. This allows for many additional benefits, like being more lifelike and having additional stability. Also, you won't need to have your dentures replaced every 5 to 7 years, as implants are made to last for several decades.
Does Dental Insurance Cover Dentures?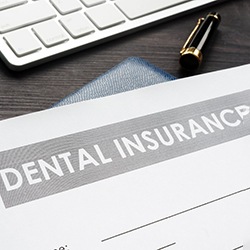 You can expect some level of coverage with most dental insurance plans. Many provide up to 50% coverage, but this will vary depending on your plan. At iSmile Dental Arts, we are proud to be in-network with countless major dental insurance plans. If you have any questions or concerns regarding your dental insurance plan, give us a call.
Other Options for Making Dentures Affordable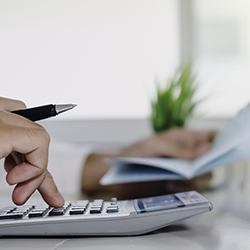 If you don't have dental insurance, that doesn't mean that you are completely out of luck. We have an in-house dental benefits plan. For an annual fee, you can receive two regular checkups, one emergency visit, and 20% off recommended dental procedures completed at our practice. We also work with CareCredit – a third-party financing company that can split the cost of your treatment into manageable monthly installments with little to no interest. For more information on your financial options, talk to one of our friendly team members!
The best way to learn how much dentures will cost for you is by scheduling a consultation with us. We are eager to help you get your smile back!
Denture Frequently Asked Questions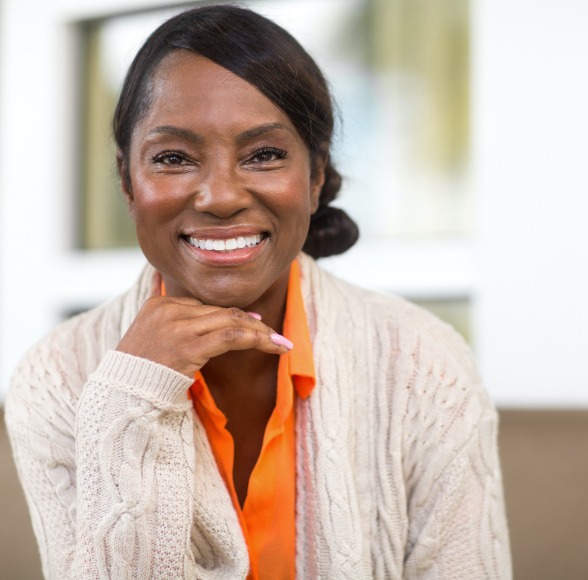 Modern dentistry can preserve your teeth for longer than ever; however, many Americans live with significant tooth loss. If you've lost several teeth, dentures are a convenient solution to regain a complete, beautiful smile. We know you have a few concerns before you're ready to commit to them, which we will address during your consultation. While you wait for your visit, here are the answers to a few of the most common questions patients ask us about dentures to help ease any apprehensions.
Am I too young or old for dentures?
Most people get dentures in their 40s or later, but there isn't an age requirement for treating missing teeth. Many younger people have suffered devastating tooth loss. Dentures are a great option for teeth replacement, even if you aren't middle-aged. In addition, you're also never too old to rebuild your smile. Instead, we considered several other factors when determining your candidacy for dentures, like your overall oral health.
Do dentures look natural?
Let's face it, dentures have a bad reputation for looking fake. While this may have been true in the past, dentures have undergone several improvements over the years. In fact, they are more realistic than ever, so you can chew, speak, and smile confidently because no one will know they aren't your natural teeth.
Do dentures feel fake?
Besides improving their aesthetics, innovations in dentistry have enhanced the fit and function of dentures. You'll be able to maintain a balanced diet and enjoy many of your favorite foods; however, they will always have their limitations. If you'd like a stronger bite, ask us how dental implants can support your denture to regain as much as 70% of your natural biting force.
Can I use my dental insurance to pay for dentures?
Every dental insurance plan differs, but most companies offer some coverage for dentures to help offset the amount you need to pay out-of-pocket. We know dental insurance is confusing, but you won't need to navigate your policy alone. A member of our team will work on your behalf to maximize your benefits to lower your expense. After reaching your deductible, you can use your coverage to pay as much as 50% to 80% of the cost until hitting your annual limit. We'll take the time to explain how your policy is being used to pay for your smile and discuss your options for any remaining balance, like third-party financing.
How long do dentures last?
Dentures are more durable than ever. They last for an average of 5 to 7 years before needing to be replaced. There are several things you can do to promote their longevity, like cleaning them daily, soaking them at night, and avoid exposing them to heat. In addition, you'll need to see your dentist regularly to have your dentures maintained, like getting them relined when needed. If you're interested in a more permanent solution, dental implants have over a 95% success rate, so you'll never need to worry about having them replaced with the right aftercare.