Porcelain Veneers – Williamstown, NJ
Get a Flawless Smile
with Porcelain Veneers
Everyone deserves to feel confident, even those who have less than perfect teeth. If you are among those who do not love their smiles, Dr. Wael M. Kassem has the solution you need. With porcelain veneers in Williamstown, NJ, you will drastically improve the color, size, shape, and proportion of your teeth in as little as two appointments. The minimally invasive procedure gives you natural-looking results to smile brightly.
Why Choose iSmile Dental Arts
for Porcelain Veneers?
Natural-Looking Dental Porcelain Used
BOTOX® Injections Available
Experienced Cosmetic Dentist
What are Porcelain Veneers?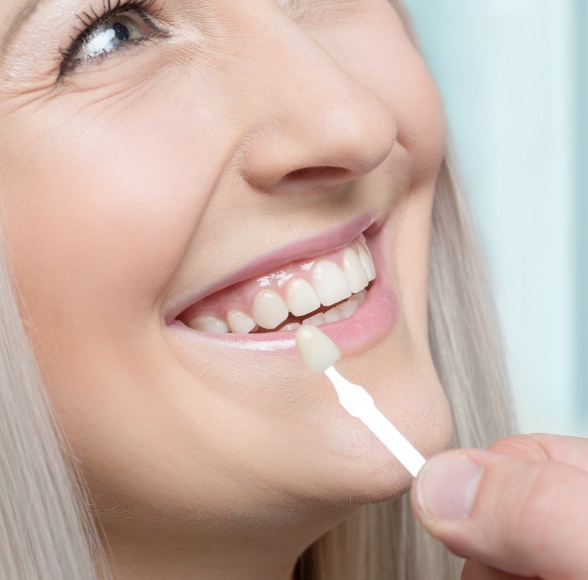 Porcelain veneers are thin shells bonded to the front surfaces of your teeth. They instantly cover a variety of cosmetic concerns to give you a radiant smile. Porcelain has become the preferred material for veneers because it closely mimics your enamel. It also makes them thinner, so less of your enamel is removed during the bonding process.
What Can Porcelain Veneers Correct?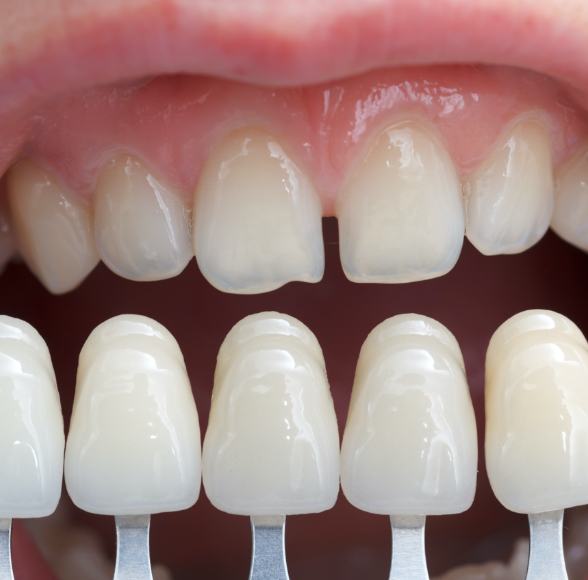 Veneers are quite versatile. They can be used to correct several imperfections, like dark tooth discoloration that does not respond to traditional whitening treatments. It is the perfect option to repair cracked or chipped teeth. They can also improve those that have an abnormal shape or are shorter than average.
In some cases, veneers can even make your teeth appear straighter by closing gaps and covering minor misalignment. You can get the straight smile you have always wanted without having to spend months wearing braces.
The Process of Getting Porcelain Veneers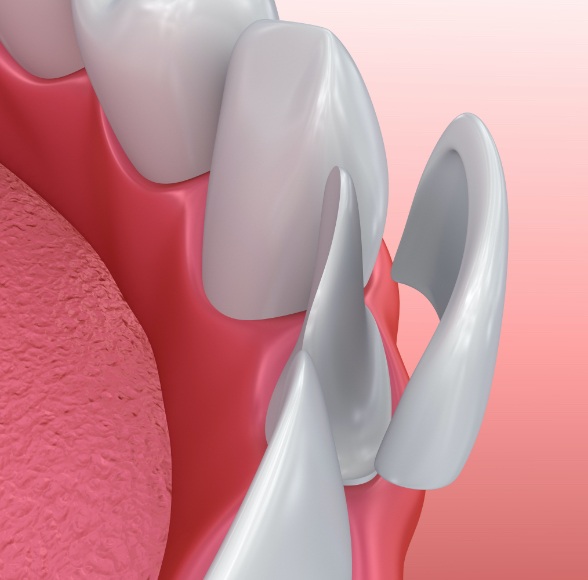 Dr. Kassem will conduct a thorough examination to ensure veneers are right for you. In most cases, if your teeth and gums are healthy, you are a candidate for the procedure. During the first phase of your treatment, your teeth are cleaned, and a small amount of enamel is removed. Impressions are taken of your mouth to craft your veneers to meet your exact specifications. In about two weeks, they will be ready to be bonded in place.
Caring for Your Dental Veneers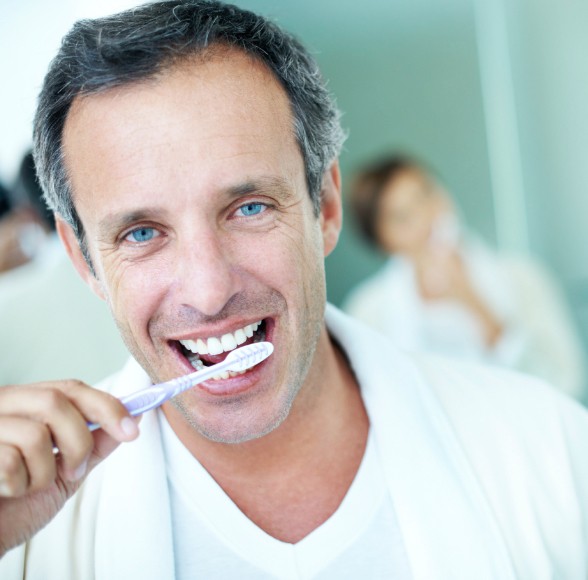 Although veneers cannot develop tooth decay, your underlying teeth are still susceptible to cavities. It is best to brush your teeth twice a day for at least two minutes each session. Choose a soft-bristled toothbrush and a nonabrasive toothpaste to prevent scratches from developing on their surfaces. Do not forget to floss in between each tooth before going to bed at night.
Veneers are durable, but they can chip or crack. To prevent damage, do not bite on overly hard foods, like ice. You will also want to avoid chewing on inedible objects, like your nails, pens, or pencils.
Maintain your semi-annual appointments with Dr. Kassem for a cleaning and checkup. In addition to checking your teeth and gums, he also looks at your veneers to ensure they are undamaged and bonded well. If one breaks or comes loose, it can easily be replaced.
Veneers provide a long-term solution of about 10 years before needing to be replaced; however, it is not uncommon for them to last longer if you care for them properly.
Understanding the Cost of Veneers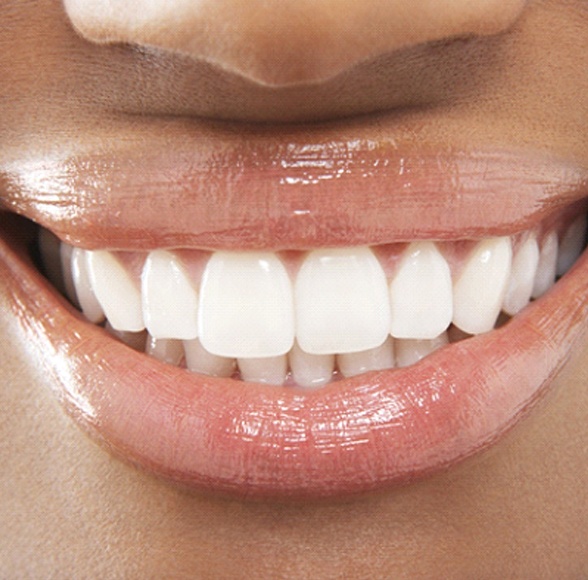 Cost vs. Cosmetic Dentistry: What's Right for Me?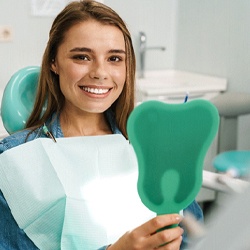 When you visit Dr. Kassem for your consultation, he will help you compare all of your options for enhancing your smile. Once you understand their cost, as well as their pros and cons, you will be able to make a well-informed decision about whether veneers in Williamstown or another treatment is best for you.
Here is an overview of a few popular cosmetic services and a general idea of their price:
Orthodontic treatment. If your dental misalignment is threatening your oral health, you should certainly use braces or clear aligners to straighten your teeth. However, keep in mind that orthodontic treatment can take a year or longer, it usually costs thousands of dollars, and it does not enhance the color or shape of your teeth.
Teeth whitening. Professional teeth whitening is relatively low-priced, typically costing just a few hundred dollars. It can get rid of even tough dental stains. However, its effects are temporary, and it does not alter the shape or position of teeth. It is often an excellent complement to other treatments, including veneers.
Dental bonding. Dental bonding (also called direct bonding or cosmetic bonding) is affordable, quick, and beautiful. At first, it looks very similar to veneers. However, it usually lasts for just 3 – 5 years.
Veneers are sort of an "all in one" cosmetic treatment. In just a few appointments, you could see dramatic improvements in the shape and color of your teeth. Veneers can even disguise some cases of minor dental misalignment. They also have the potential to last for well over a decade. Although they present a significant upfront cost, they are a great investment in your smile!
How to Make Veneers Affordable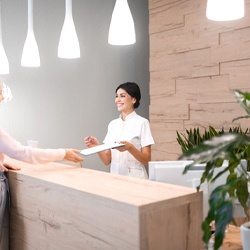 Dental insurance almost never covers veneers. However, that does not mean there are no provisions available to make your treatment more affordable. As your cosmetic dentist in Williamstown, we are proud to offer:
Most patients are eligible for financing through CareCredit, a third-party company that offers low-interest and no-interest payment plans for dental services, including cosmetic treatments. We will be happy to walk you through the application process.
In-house membership plan. Our in-house discount plan provides a 20% discount on most of the services we offer, including cosmetic treatments. It also completely covers basic preventive care, so you will be able to keep your veneers looking their best.
Are you ready to learn more about veneers and their cost? Dr. Kassem and our team are ready to answer your questions during your consultation. Contact us today to book an appointment. We look forward to helping you achieve your dream smile!
Invest in Your Confidence Today!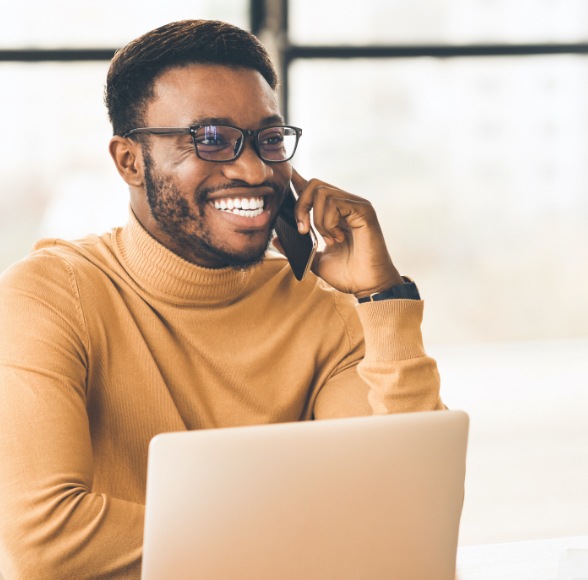 If you are not in love with your teeth, you can get the dazzling smile you have always wanted with porcelain veneers. Contact our dental office today to start your journey to enhanced confidence.
Veneers FAQs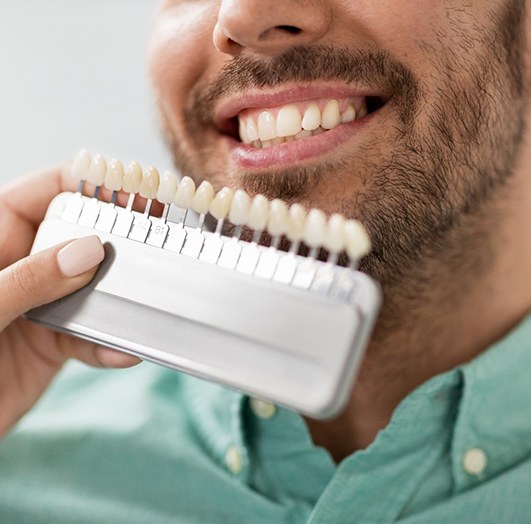 If you're someone who has always wanted to enhance their smile but don't know enough about cosmetic dental treatments, you can rest assured that our team is ready to answer all your questions. In the case of veneers, it's one of the most common treatments we get questions about! Below, you can read a few of the questions we've received over the years for your convenience. If yours is not listed, please give us a call to schedule a consultation and see if veneers are right for your smile!
Are Veneers Permanent?
Veneers themselves are not technically permanent since they will require replacement once they become very old. However, the modifications made to teeth so they can fit properly and look natural are permanent. We are referring to the removal of enamel that occurs before the veneers are bonded. Keep in mind that enamel does not grow back once it has been removed, so you'll want to be sure that you want veneers before going through with this treatment. If your teeth have been prepared to receive veneers (or crowns for that matter), they will always need to be covered with a dedicated restoration.
Is There Anything I Can't Eat with Veneers?
Permanent veneers are able to handle most foods without much worry, but there are some exceptions. For example, very hard or crunchy foods can chip veneers, especially if they are over 10 years old. However, it's really temporary veneers you need to be most mindful of. These are the restorations that are attached to your teeth as placeholders before your permanent veneers are fabricated. When you are wearing temporary veneers, make sure to:
Stay away from very sticky foods (which can remove your temporaries from your teeth)
Avoid hard foods like ice, raw fruits and vegetables, and candy.
Be wary of richly pigmented foods and beverages that can stain teeth.
Avoid very hot or cold substances if you notice sensitivity after their placement.
Do not drink alcohol in excess as the bonding material holding your veneers in place could fail.
Can You Whiten Veneers?
Teeth whitening products, whether they are purchased in a store or at our office will not affect veneers even if they are stained. Instead, you'll need to have them either shaded or replaced. However, if you do decide to receive teeth whitening, you can expect the teeth that do not have veneers to change in color. That means if you already have stains on teeth that you do not intend to have covered with veneers, you should begin whitening treatment first, then pursue veneers. That way, the veneers can be color-matched to your whiter smile.
How Can I Reduce the Cost of Veneers?
There is no reason for you to receive veneers for teeth that have not been damaged. That way, you're not spending money on restorations that you don't need to achieve your ideal smile. One way to save money is to sign up for our in-house dental savings plan, which offers discounts on other services at our practice, including treatments not covered by insurance. Third-party financing through CareCredit is another popular option to consider as well.