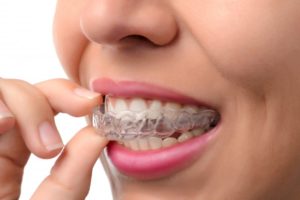 Invisalign is an exciting and innovative treatment that allows patients to align their teeth with efficiency and discretion. However, it's important to understand that your aligners are not indestructible, and there are a few things you can do to make your treatment with Invisalign in Williamstown go smoothly. Here's what you should know about Invisalign treatment and what to do if your aligners break.
Assessing the Situation
Your Invisalign aligners are made of a thin clear plastic that could potentially crack or break. They are designed to fit snug against your teeth so they don't interfere with talking and smiling. If they should crack or break, don't panic. There are a few different ways we can deal with the situation.
First, assess your trays. How bad is the crack or break? Are your trays completely broken, or would they still be wearable? Determining whether you can still wear your trays will help your dentist determine the best course of action.
When to Contact Your Dentist
Each set of Invisalign aligners will typically be worn for 2 weeks. So if they're still wearable, you may still be able to use them until it's time to change them.
If your aligners are completely broken, contact your dentist. If it's close to your 2 week changing, your dentist may just recommend that you start your new set. If you just changed your aligners and now they're broken, a new aligner may have to be made.
Other Things to be Aware of During Invisalign Treatment
One of the great benefits of Invisalign is the fact that your aligners can be removed for eating meals and brushing your teeth. This also means that you have to be careful about keeping track of them during meals when you take them out. Use your carrying case as storage for them while you eat in order to avoid throwing them out in a napkin.
You'll want to rinse your aligners frequently during the day to keep them clean, as bacteria and plaque can build up inside of them. Use cool or lukewarm water when cleaning or rinsing your Invisalign trays in order to avoid warping the shape of your aligners. You can also use the Invisalign Cleaning System to keep your aligners fresh.
If you're considering braces in Williamstown, you may want to learn more about how Invisalign can straighten your teeth with comfort and ease. Contact your dentist today to learn more.
About the Author
Dr. Wael Kassem has been taking care of patients in Williamstown, NJ for over a decade. He provides exceptional dental care in a warm and caring environment designed to meet each patients' unique needs. He is a certified Invisalign provider, which means he can guide you through treatment with Invisalign from start to finish.
If you would like to contact Dr. Kassem, he can be reached by calling 856-818-9998 or through his website.