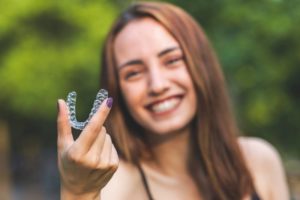 You have just begun your new journey to straighter teeth with Invisalign! Hopefully you are enjoying the discreet look and being able to still indulge in your favorite treats. The only thing that has given you a bit of trouble is removing your clear aligners when grabbing some food or drinks. Here are five simple ways to make the process easier!
Tip #1: Stay Relaxed
Remaining calm is always the most helpful first step when something is frustrating. Take a few deep breaths to minimize any stress. If you are frustrated, trying to remove aligners that are stuck can lead to breaking them, which could possibly delay your treatment.
Tip #2: Avoid Cold Beverages
Cold beverages can cause your clear plastic aligners to become stiffer and more difficult to take off. To ensure they're flexible enough to remove, you can try drinking lukewarm water to help loosen them. Be sure not to drink hot beverages, as this can damage and warp your clear aligners. Remember to dry your hands as well; this will help you have a better grip on them.
Tip #3: Lift from the Back
To put your trays on, you probably line them up with the front of your teeth and push them into position. But when you want to take them out, you should do the opposite. Simply start at the back of one side of your mouth, lifting the aligners off the back teeth (molars). Then, do the same with the other side. Slowly work your way toward the middle, focusing on the looser places if necessary.
Tip #4: Get a Grip
Many people find that using their fingernails is an easy way to pop them out. However, if you have short nails or you simply don't prefer this option, there are a few other things that can help you. You can use a thick, folded paper towel or surgical gloves to get a better grip. There are also special tools specifically designed to remove Invisalign trays called aligner hooks. You can ask your dentist for the best recommendations or do a google search and look at the reviews for the most effective ones.
Tip #5: Switch Aligners at Night
After you have learned the best method for removing your aligners, you can think about making your transition to new sets a bit more comfortable. By changing into your next designated trays before you go to bed, you won't have to worry about feeling discomfort while your teeth adjust to the pressure. By the morning time, your smile will already be more accustomed to them, allowing you to feel comfortable while being able to easily take them off.
Invisalign is a wonderful option for getting straighter, more aligned teeth. Once you have learned to easily remove them by using these tips, it will be a smoother ride on the way to your new smile!
About the Author
Dr. Wael Kassem and his team at iSmile Dental Arts serve Williamstown and the surrounding areas. He earned his dental doctorate at Temple University and is an active member of several dental associations, including the American Academy of Esthetic Dentistry. Combining a passion for the artistic nature of dentistry with compassionate care, he can help you achieve the smile of your dreams with Invisalign! To schedule an appointment, contact him through his website or call (856) 818-9998.